Are you a music fan? Do you listen to music every chance you get? Do you know all of the hottest tracks? If this sounds like you, why don't you become a DJ?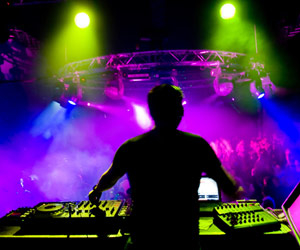 Disc Jockeys, or DJs, have one of the best jobs around. It's their job to entertain live audiences with their musical selections. Typically they get paid to mix music at weddings, parties, clubs, cruise ships, bars, radio stations, raves, nightclubs, or other venues. As the DJ, you're the face of the music scene and you get to bring your vibes to the audience to make the party come alive. Getting paid to DJ might just be the best job ever.
DJs specialize in a musical niche like hip hop, classic rock, trance, electronic, reggae, or other genres. To create and mix their unique sound they must invest in the software, music, sound systems, headphones, turntables, and mixers so that they can master their musical art. Whether they end up playing for live audiences or mixing and mashing tracks in a studio, being a DJ is a fun way to make a living.
Anyone who's created a play list or mixed songs at party might call themselves a DJ, but it takes more than just a sweet playlist on your smartphone to become a DJ. Many DJs learn the skills on their own, but there are also DJ courses where you can find professional training. One of the best ways to hype your sound is to create a strong digital presence. Most DJs find their first jobs at small venues and even online before climbing the ladder and finding work in bigger venues with larger markets.
While most aspiring DJs dream of playing the biggest clubs, perhaps the most stable job for a DJ is as an on-air radio personality where you get steady work playing tunes on a popular local channel or satellite radio network.
Most DJs will earn a few hundred bucks per show. On average they make about $30,000 per year. Many DJs start their DJ career as a side gig. Then if they are truly talented and audiences love them, they can turn their passion into their musical profession.
If you feel like you have what it takes to become a DJ, we highly encourage you to pursue your passion. Please visit the JobMonkey JobCenter to search and apply for DJ jobs near you.
See Also: