Winter is not too far off and ski resorts and ski town employers are already starting to hire mountain-loving staff for the 2019 / 2020 ski season. Working in the ski industry is the opportunity of a lifetime so apply for one of the coolest jobs in the ski industry and see where it takes you.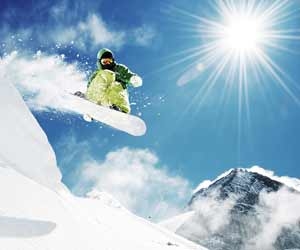 The ski industry is a seasonal niche that revolves around skiing and snowboarding. Pretty much all of the jobs in the ski industry involve being outside in the mountains, living an active lifestyle, and playing in the snow. Working in the winter sports niche is a fantastic and healthy way to make a living.
Learn More About Ski Industry Jobs
It takes a lot of people to make this industry run. Ski resorts, ski shops, restaurants, hotels, and other mountain town businesses all need people like you to apply for jobs. One question that people have is what is the coolest job in the ski industry? Most people would say any job that allows you to ski as much as possible is the coolest. That's certainly the goal of having a ski town job, right?
Below you'll find our top ten list of the coolest jobs in the ski industry in no particular order:
Backcountry Or Heli Ski Guide
Ski Resort Social Media Manager
Are there other cool jobs in the ski industry too? Of course! You could build skis and snowboards, be a bartender at a apres ski bar, coach skiing, drive a snowplow, make ski movies, be a ski industry blogger, work as a ski valet, wait tables at an on-mountain restaurant, find work in ski area management, forecast for avalanches, or do countless other things. The opportunities are endless. If you like the sound of finding jobs in the ski industry, start your search today. Figure out what resorts you want to work at or what mountain towns you want to live in and find a job.

One quick word of warning though – many people show up for one ski season and end up staying for a lifetime because they love it so much. This can easily happen to you too.
Why don't you apply for one of these cool jobs in the ski industry today? If you're new to the ski industry, consider finding an entry level job with a ski resort. This is a great way to get your foot in the door of the ski world and to capitalize on cool perks like season passes, employee housing, on-the-job training, discounted gear, and more.
Start your search for cool jobs in the ski industry right now on the JobMonkey JobCenter.
FYI – Most ski industry employers are hiring right now for the upcoming winter season. Get your resume together and apply for jobs ASAP.