Backpacking Trip Leader Jobs
What if your office was the rugged mountains of Wyoming, the snowcapped peaks of New Zealand, or the endless wilderness of Patagonia? Anyplace that is considered wilderness could be where you work if you are a backpacking instructor.
Backpacking instructors lead trips in the backcountry. They are as at home in the wilderness as they are in the front country. They may go weeks without seeing the news, checking an email, or spending a dollar. Their guiding jobs take them to some of the most remote places in the world…pristine places that few people will ever see.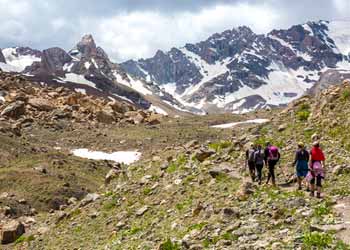 Working as a backpacking instructor is an adventurous, fun career. It is a job that takes place in the outdoors 24 hours a day, 7 days a week for the duration of a trip. Trips can last a week, a month, or a quarter of a year. There are both educational, classroom aspects and decision making, leadership aspects to this job.
Backpacking instructors have to be expert backpackers. They need to know about animals, ecology, navigation, and weather patterns. They must plan routes, food resupplies, and set itineraries. They need to know how to read maps, anticipate terrain, pack backpacks, cut weight, deal with wild animals, select campsites, cook, set up tents, and plenty of other things. They need to be experts on the proper clothing, techniques, and gear. All of this information is included in the normal backpacking course curriculum and needs to be second nature for any instructor.
Backpacking instructors are strong leaders and can easily manage risk. Their job is to take people miles from any form of help and teach them how to safely travel through wild terrain. They need first aid and rescue skills, as they must be prepared for anything from squirrel attacks to rockslides. An outgoing, adaptable personality and the ability to read the group, distribute gear, set up cooking and tent groups, and manage the overall group esteem are essential.
To become a backpacking instructor, you can take a wilderness leadership or outdoor education program at schools like Prescott College, Thompson Rivers University, or Colorado Mountain College. However, a degree is not a prerequisite. Often you don't even need prior experience – just a smile and a love of the outdoors. Some companies require an instructor course to dial in your skills and to set teaching standards.
The best places to work as a backpacking instructor are at numerous outdoor schools like Outward Bound or the National Outdoor Leadership School. You should apply directly with these schools or take an instructor course from them. Learn more about outdoor leadership schools here. The next thing you know you'll be crossing raging rivers in the Yukon, stumbling across elk herds in Montana, camping on the shores of the Baja, or cooking dinner in the shadow of the Andes.
Backpacking instructors don't make that much money.
Some companies pay $250 per week. Others pay $60 to $180 per day. But all of them include room and board, a place to leave your stuff when you are in the backcountry, plus free equipment usage. When you consider that you don't have any other life expenses, that's not too shabby. Most instructors start out working a few courses a year, usually in the summer. A career instructor may be in the backcountry for as many as 30 weeks per year.
Traveling, trekking, and teaching in wilderness settings is a physically and mentally challenging job and one you'll love. If this sounds like the career for you, prepare for a lifetime of adventure. The world will be your playground and your office will be breathtaking.
Quick Facts About Backpacking Work
Job Title: Backpacking Instructor
Office: The wilderness
Description: Teach and lead students through the backcountry
Certifications/Education: No formal education required. Degree in Adventure Tourism or Outdoor Education highly recommended. May need to take Instructor Courses for certain schools
Necessary Skills: Outdoor skills, Prior backpacking experience, Communication Skills
Potential Employers: NOLS, Outward Bounds, Wilderness Ventures
Pay: $60 to $180 per day plus room and board.
Helpful Backpacking Instructor Employment Links:
Search Backpacking Instructor Jobs on JobMonkey
National Outdoor Leadership School
Outward Bound
International Wilderness Leadership School
Outdoor Ed