How many locks are in your life? Most people carry keys for a wide variety of purposes – vehicles, bike locks, homes, buildings, businesses. If you're like most people you likely have a full keychain of keys in your pocket. Those keys protect your things and they are vital to your way of life. But what happens when you lose your keys? You'll need to call a locksmith.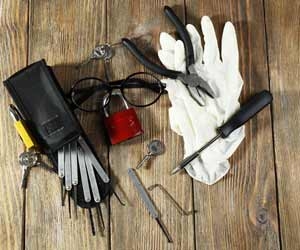 At some point everyone requires the services of a locksmith. Locksmiths are professional tradesmen who work with locks of all shapes and sizes. They are experts at installing, adjusting, opening, repairing, and fixing locks. It's their job to help people who are locked out of their homes, cars, or safes.
Learn More About Locksmith Careers
There is no typical day in the life of a locksmith. Every day is different. Locksmiths have a non-traditional job where they are constantly traveling from one job to the next. They may open a vehicle after an owner locks their keys inside, help a business open a safe, or re-key a door for a new homeowner. Every job is different and this helps to keep the job fresh.
To become a locksmith, you need specialized training via an apprenticeship or formal courses. The first step is to master skills like safe cracking, electronic locks, automobile systems, residential locks, and more. Next you will need to obtain a license in order to find work. Then it's time to apply for jobs.
According to the Bureau of Labor Statistics, there are 17,800 locksmiths employed in the US. Their mean annual wage is $41,270. Ever since the invention of the lock, locksmithing has been a secure career – and it will remain a secure job long into the future. There are locksmithing businesses and opportunities in every town, city, and state.
To be a top-notch locksmith, you must adapt your skills to grow with technology.  As traditional lock and key systems phase out, locksmiths are learning to focus on computerized and electronic security systems. Discover what it's really like to be a locksmith on JobMonkey.com. This is one of the best pages for information on locksmith jobs.