Taking a cruise is a magical experience and a fantastic way to see the world. This billion dollar industry launches ships to incredible destinations all year long. And it needs people like you to work on cruise ships.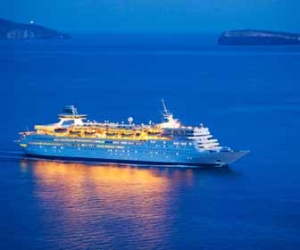 One of the best things about cruise lines are the amazing job opportunities. Every ship is like a floating city and needs hard workers to fill every single role imaginable. Find a job on a cruise ship as a boat captain, ship engineer, bartender, casino host, international ambassador, performer, DJ, waiter, first mate, chef, shore excursion manager, concierge, or countless other positions. Cruise ship jobs rock.
Check Out The JobMonkey Cruise Line Industry Guide
When you work on a cruise ship you get to enjoy the perks of cruise ship life. Not only do you have a cool job where you get to meet excited travelers, but you get to paid to travel. As a cruise line employee you might get to explore the Caribbean Islands, island hop in Hawaii, visit Alaska, see the sights of the Mediterranean, or experience the South Pacific.
Working for a cruise line is one of the best jobs ever, but part of finding the job is picking the right cruise line employer. That's why this brand new US News & World Report post caught our attention. This report highlights the 2016 Best Cruise Line Rankings. The report compares "the top 15 cruise lines across six categories." Here are the top 4 results from each category:
Best Cruise Line For The Money
Best Cruise Line For Romance
Regent Seven Seas Cruises
Azamara Club Cruises
Silversea Cruises
Best Cruise Line In The Caribbean
Best Cruise Line For Families
Best Cruise Line For Luxury
Regent Seven Seas Cruises
Azamara Club Cruises
Oceania Cruises
Best Cruise Line In The Mediterranean
Regent Seven Seas Cruises
Azamara Club Cruises
Silversea Cruises
Cunard Line
These are the top cruise lines in the world in their categories. Read more about the best cruise lines and the top cruise ships on US News & World Report. Both cruise seekers and job seekers will find this information helpful, so share it with your friends.
Find a cruise line that meshes with your travel interests or your career motivations and apply today. Of course don't forget to explore other cruise line employers too! Find even more cool cruise line employers on the JobCenter.
The cruise industry is seeing exciting growth and now is an excellent time for you to find a cruise line job. Start your job search a job on the JobMonkey JobCenter. All aboard!