TESL Jobs in the U.S.
Young children of immigrant parents often learn English simply by attending public school, even if they only speak their native language at home. Children are like sponges and will absorb language (or anything for that matter) faster than you can imagine. Because of this, work for ESL teachers in the U.S. is often with adult students. It is the more specific niche of bilingual education where you will find that children are your main set of students.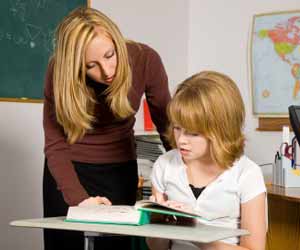 Possible TESL job opportunities include: university or community college day classes (and night classes for working adults), private tutor, teacher at a bilingual school, home school teacher/governess/nanny for children of immigrant parents, local literacy organization, community courses at a local library, onsite company training program, nursing homes, etc.
Major cities with large immigrant populations, such as New York City, Los Angeles and Chicago, are bound to be full of TESL jobs. New York state is considered to have one of the highest populations in the U.S. of those in need of ESL education, with many people even on waiting lists to get into an ESL course. But also, if you live in an area populated by Mexican and Latin American immigrants – somewhere like South Texas or New Mexico or Southern California – there will be plenty of opportunities there as well. Especially in such immigrant-dominated populations, there may be a need for ESL teachers who can seriously help students prepare for the U.S. citizenship exam or other related testing.
Check to see if your city has an adult education center, where an ESL specialist is required to coordinate the program and/or teach.
Long distance learning, such as tutoring online, is very popular now with the spread of Internet across the country. Tutoring firms often look for experienced ESL teachers who would like to work from home and have reliable Internet access.
Check out universities offering online courses, such as Phoenix University, to see if they have any openings for ESL teachers. Some may require you to be bilingual, and as Spanish is the second most spoken language in the U.S., it will likely be Spanish that the company wants.
If you are going to work as a private tutor and would like to hire yourself out to companies for onsite courses or to teach individuals, it is helpful to partner yourself with a private tutoring agency that already has ESL teachers or already has an established clientele that may need your services or can spread the word with reliable marketing. If no tutoring company exists in your city, and you know that there is a market for your services, you may consider starting your own firm. Visit businesses that you think will have employees needing ESL help, leave them fliers and business cards, even offer a free trial lesson. Even if you aren't hired to come onsite and teach the entire staff, you may still get some private lessons out of it. Advertise in the newspaper, the phone book, and definitely set up your own website. Make and distribute bumper stickers with your contact info. Try mailing out ads with a discount coupon for a free trial lesson. Put up fliers where you think your target market (or their friends and family) will notice them: the library, grocery store, cafes, university campus bulletin boards, testing centers, and even cultural/heritage centers. Visit a local school board meeting and ask to speak so you can put in a word for yourself and your business, and maybe offer to do a few free workshops at a school or university. Really, the extent of the advertising campaign depends on the strength of your desire to build a solid tutoring business.
Teaching ESL to home schooled children can be a little bit more complicated because of the strict policies you must abide by. Each state has its own legislation on home schooling, and some of the stricter states do not allow anyone but the children's parents to be in charge of teaching and reporting the children's progress to the home school agency. If this is the case in your state, you can still work as an assistant to the parents, offering your services as an ESL tutor to supplement what the parents are teaching. Home schools are usually affiliated with a religious organization, so check with local churches for job opportunities. Check out this website for more detailed information about the various organizations and regulations for your state: https://hslda.org/content/
One option for experienced ESL teachers is curriculum design. Using your classroom experience, you can be hired to work as an editor or writer of a textbook that is being created for use in an ESL classroom. Similar positions include working on the production of ESL video and audio programs. Contact the publishers of established ESL textbooks or video/audio programs (found in your local bookstore or library) and let them know how you could contribute to their company. You might also find work as a content writer or editor of curriculum for online teaching of ESL. This could be with an online tutoring company that offers private tutoring or with a university that offers online ESL courses to its students.
Similarly, you could work for a TEFL certificate-granting school. Although TEFL schools in Europe are rather popular with young Americans, there are still plenty in the U.S., but you must be highly experienced and well qualified.
TIP – Look into ESL distance learning programs.
If you have a flare for writing and have something to offer from your own experiences in the ESL field, you could submit an article or essay to an ESL journal (print or online), many of which can be found on this site.
Publication could even lead to regular work with the journal, and having your name out there is a good way for schools or even research institutions to contact you.
Research is also an option, if you are interested in staying in academia and becoming an ESL expert, or if you want to work for a government institution, or even an non-profit that needs someone to continue to expand their data on ESL. A wonderful list of links to ESL education resources and articles can be found here:
https://www-bcf.usc.edu/~cmmr/BEResources.html
Last but not least, volunteering or interning in an ESL related position can take you to a more grassroots level of education. This kind of work, if you are dedicated and persistent, can sometimes lead to a paid position.