Are you a fan of Halloween? October 31st will be here before you know it. As the scariest of all holidays, Halloween is the best time of year for haunted houses, pumpkin festivals, horror movies, trick or treating, jack-o-lanterns, and of course costumes too. It's also a fantastic time to find fun, seasonal work.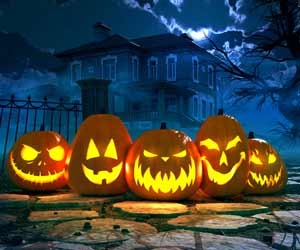 Halloween may actually be a bigger holiday than you realize. Let's take a quick look at some Halloween 2015 statistics:
$6.9 Billion in Halloween consumer spending
64% of Americans will celebrate Halloween
41.2 million potential trick or treaters
$75.34 average amount Americans spend on candy, costumes, and decorations
$2.1 billion projected spending on Halloween candy
49.5 million acres of pumpkins harvested in US
Discover more Halloween stats on CNN.com and NRF.com.
Wow, right? Halloween is the real deal and it's big business. With so many people celebrating this scary fall holiday and spending so much money there are a surprising amount of Halloween jobs that you can find. What many people forget is that the weeks leading up to Halloween are prime time to start your job search for seasonal Halloween jobs 2016. These jobs are up for grabs. As a job seeker this is a huge opportunity for you.
This might be the type of seasonal, short term survival job you need to coast through the end of your long term job search. Might as well earn some money during this scary time of year.
If you're seeking Halloween jobs 2016, you might be able to find jobs at:
Costume Rental Shops
Construction
Movie Theaters
Halloween Event Jobs
Pumpkin Sales
Halloween may still be a month or so away, but right now is the time to start your search for Halloween jobs 2016. Get your resume and cover letter ready. Free up your schedule. Attend auditions. And get hired for this haunted season. Just remember that lots of Halloween jobs are local opportunities, be sure to check your local job search resources too.
Have a fun, safe, and scary Halloween 2016!