What is the happiest country in the world this year? Before you scroll down the page to see the answer, take a guess as to what nation topped the charts in this year's list of The Happiest Countries of 2016 according to the World Happiness Report. The #1 spot might surprise you.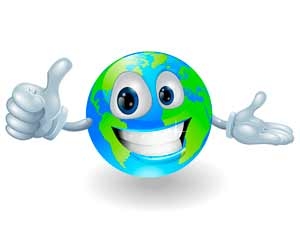 We always look forward to seeing what country is #1 on the World Happiness Report. Earlier this year was the fourth time the in-depth and detailed list has been released. The report provides a "survey of the state of global happiness." It ranks 157 countries based on their happiness levels by using criteria from factors like "economics, psychology, survey analysis, national statistics, health, public policy and more."
Happiness is an important factor when you're searching for a job. When what you do and where you live brings a legitimate smile to your face every day, then you'll have found the perfect fit for you. If you want to learn more about working abroad, JobMonkey.com is a great resource.
Now, let's take a look at the Top 30 Happiest Countries of 2016:
Iceland
View the full World Happiness Report on WorldHappiness.Report.
When you are truly happy, everything in life will be better. Make a point to find a job, a location, and lifestyle that makes you happy. This should be your ultimate goal in life.
The World's Best Cities For Quality of Life In 2016
The list of the Happiest Countries of 2016 is a great thing to share with job seekers because it can influence where you might want to apply for jobs. If you are legally qualified to work in another country, then it makes sense to also focus your job search on countries that are happy too.
Visit the JobMonkey JobCenter and search for jobs in happy places. It's easy to find job listings based on location or just use the links in the list above to find jobs in a specific, happy country. Happy job hunting!
See Also: