Did you know that in the United States there are over 2 million weddings per year? According to a press release from wedding website, TheKnot.com, the average cost of a wedding is $31,213 (excluding honeymoon). CareerAddict.com says that the wedding industry brought in $55 billion in 2014 and will create 780,000 jobs by 2019. Impressive!
It's easy to see that the wedding industry is a massive industry. And where there is lots of money, there are also lots of jobs! Who wouldn't want to work in an industry that celebrates love, happiness, and togetherness? If you're looking for a joyous job, the wedding niche might be perfect for you.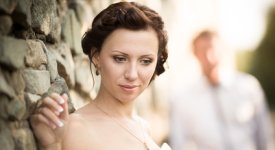 From engagement to the honeymoon, there are lots of things to think about when it comes to weddings – locations, destinations, rings, bachelor parties, bachelorette parties, wedding ceremonies, table decorations, cakes, drinks, food, photos, speeches, music, flowers, caterers, dresses, invitations, receptions, and the list goes on.
If you've been to a wedding or you've been married, you've seen how much time and energy goes into the big event. But have you ever considered what jobs exist because of the wedding industry? You might have heard of some of these jobs, but others might surprise you. We learned about some of these jobs from CareerAddict.com and then we added a few others.
Take a look at some cool jobs in the wedding industry:
Bridesmaid – Usually a bridesmaid is a friend, but if you need extra you can also hire a bridesmaid.
Proposal Planner – Not sure how to propose? Proposal planners will help you create the perfect romantic proposal.
Wedding Speech Coach – Are you nervous in front of people? Get a coach to help you give a memorable speech.
Wedding Photographer – Photographers capture the moments that make a wedding memorable – mingling with the guests, capturing lifestyle shots, or catching magic moments.
Drone Photographer – Photos are super important at any wedding. Why not include some drone aerial photos too?
Wedding Insurance Agent – Weddings are costly. When it comes to the big day, it's not a bad idea to insure everything goes according to plan.
Cake Designer – A perfectly crafted cake is a beautiful thing. Cake designers make and create these tasty decorations.
Wedding Planner – The wedding planner coordinates everything and helps the bride and groom stay organized.
Dress Designer – Brides always look stunning in their wedding dresses thanks to talented dress designers.
Florist – Colorful bouquets of flowers help to accentuate the wedding events. Florists help to get create the mood with flower arrangements.
Caterer – No wedding is complete without delicious food. It's important to choose the right caterer to create the perfect menu.
Cosmetologist – Makeup, manicures, pedicures, massages. Everyone wants to look their best at a wedding.
Wedding Band/DJ – A band is a key component to create a festive atmosphere at a wedding reception. A good wedding singer and fun band are a must.
Which of these cool jobs in the wedding industry are you most interesting in? All of these jobs will keep you busy in a fun "office-free" setting. Plus, it's rewarding to be a part of the wedding experience.
If you love weddings, or you just want to find a cool job, search for one of these cool wedding jobs. You can start your job search on the JobMonkey JobCenter today!