Whenever we see an article about The Best Places To Work, we immediately click on it. It's always fascinating to find out what companies topped the charts. A variety of sources compile lists like this ever year, but the one list that we always look forward is OutsideOnline.com's annual list of the 100 Best Places To Work.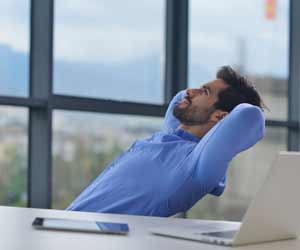 OutsideOnline.com's list is one of our favorites because they highlight cool companies that you might not have heard of yet. Their list of "100 finalists showcases companies that make employee health and happiness a point of pride." Based on OutsideOnline's consistently cool content, we feel that their list of the best places to work meshes well with our audience at JobMonkey.com – that's you.
Employers With The Best Perks & Benefits
In OutsideOnline's Best Places To Work In 2016, you'll find all sort of cool companies that do cool things. These employers are a bit out of the ordinary because they strive to make the workplace an exciting, healthy, happy, creative, and fun place to be. Find a job with one of these cool employers and you might have fridge stocked with beer, team-building hikes, profit sharing opportunities, spa days, ski passes, dog friendly offices, flexible work hours, or any number of cool things that anyone one of us would be envious of.
Let's take a look at The Best Places To Work in 2016 according to OutsideOnline.com:
Forum Phi – Aspen, Colorado
GroundFloor Media – Denver, Colorado
Southwest Michigan First – Kalamazoo, Michigan
Ergodyne – St. Paul, Minnesota
Shine United – Madison, Wisconsin
TeamSnap – Boulder, Colorado
Causely – Lexington, Kentucky
Development Counsellors International – New York, New York
Uproar PR – Orlando, Florida
Pellucid Analytics – Boulder, Colorado
ReadyTalk – Denver, Colorado
GeoEx – San Francisco, California
The Trade Desk – New York & Chicago
Charles Cunniffe Architects – Aspen, Colorado
Zen Planner – Denver, Colorado
The Frontier Project – Richmond, Virginia
Realeflow – Parma Heights, Ohio
Inntopia – Stowe, Vermont
Hanson Dodge Creative – Milwaukee, Wisconsin
Nemo Design – Portland, Oregon
Cloud 9 Living – Broomfield, Colorado
Mountain Hub – Park City, Utah
Evoke at Entrada – Santa Clara, Utah
Ecology Project International – Missoula, Montana
Avid4 Adventure – Boulder, Colorado
Zozi – San Francisco, California
Room 214 – Boulder, Colorado
Apto – Denver, Colorado
SlideBelts – Sacramento, California
N2 Publishing – Wilmington, North Carolina
RA Nelson – Vail, Colorado
Wisetail – Bozeman, Montana
Carmichael Lynch – Minneapolis, Minnesota
Colle + McVoy – Minneapolis, Minnesota
Sterling-Rice Group – Boulder, Colorado
TDA Boulder – Boulder, Colorado
Haberman – Minneapolis, Minnesota
Alaska Small Business Development Center – Anchorage, Alaska
BSW Wealth Partners – Boulder, Colorado
The Honest Kitchen – San Diego, California
Nei-Turner Media Group – Williams Bay, Wisconsin
Go Ape – Frederick, Maryland
G Adventures – Boston, Massachusetts
StoneAge – Durange, Colorado
Dry Corp – Wilmington, North Carolina
Bluetent – Carbondale, Colorado
Adaptive Sports Center – Crested Butte, Colorado
SimplyHome – Asheville, North Carolina
SheerID – Eugene, Oregon
SportRX – San Diego, California
These companies operate in a wide variety of niches: PR, communications, travel agencies, architectural firms, consulting businesses,, IT, summer camps, treetop adventure companies, consumer products, technology, cloud marketing, brewer associations, ski resorts, wilderness associations, background check companies, dog gear makers, outdoor gear makers, shared economy, etc.
Most of these companies are relatively small businesses. When you're searching for jobs and researching employers, it's a good idea to look at smaller companies that have a reputation for taking care of their employees. If you'd prefer to work at one of the best small, medium, or large companies you'll want to check out this post.
We also noticed that of the 50 companies featured in this post, 18 out of 50 are located in Colorado. Maybe you should search for jobs in Colorado!
Stop by OutsideOnline.com to learn more about these businesses and get links to the company websites. Take a good look at this list of companies and put these employers on your job search radar. You can find cool companies like these that are hiring right now on the JobMonkey JobCenter. Apply for your next cool job today!