Are you looking for a job in the mountains? Every ski resort in the world needs hard working, safety-conscious ski lift operators. Apply for one of these cool jobs today.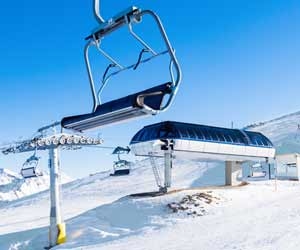 Ski lift operators, aka lifties, play an essential role in the ski industry. They are tasked with the safe and efficient operation of ski lifts at a ski resort. Ski lifts spin all day long. Every hour they transport hundreds or even thousands of skiers and riders of all ability levels up the mountain.
A ski lift operator's day starts bright and early. This job requires them to be outside in the elements for the duration of the workday. While on the job, a ski lift operator is responsible for:
Ensuring loading and unloading zones are safe
Wiping snow off of chairs
Testing lift equipment
Assisting guests on and off the lift
Greeting guests
Starting, stopping, and slowing down the lift for passenger safety
Identifying any potential lift hazards
Performing AM inspections
Following PM shutdown procedures
Ski lift operators rotate positions throughout the day. They will work at the top terminal helping guests unload or the bottom terminal helping guests load the chairlift. In between working these roles, there is plenty of time scheduled into the day to take ride breaks where they get to enjoy the fresh snow.
Learn More About Working In The Ski Industry
Finding work as a lift operator is relatively easy. This entry level job does not require a college degree. It pays roughly $9 to $10 per hour. Ski resorts provide training and it's a great way to get your foot in the door of the ski industry. Perks of being a ski lift operator include free season pass, employee housing, and the mountain town, outdoor lifestyle.
Many ski lift operators come for a season and end up staying in the mountains for a lifetime. Being a lift operator is typically a seasonal job, but there are also job opportunities in the summer sending tourists and thrill seekers up the mountain for scenic hiking or biking.
Do you think that working as a ski lift operator is the right job for you? Find ski lift operator jobs with the following employers:
If you want to work in the ski industry, find a job as a ski lift operator. You'll love this new way of life.