Are you searching for social media jobs? It's one of the hottest job niches right now. If social media jobs aren't on your radar, they should be.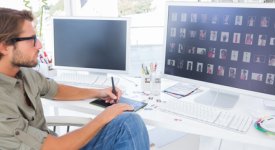 Social media creates online communities for people to interact and share information. The Internet is full of social media outlets and each one caters to a different market. Globally, billions of people use social media daily. Maybe you've heard of Facebook, Twitter, Instagram, or Groupon? As long as you have Internet access or a phone signal, social media is only a few clicks away.
It's an incredible industry that is constantly growing and evolving. Social media needs innovative, creative people to work all over the world. Did we mention that lots of social media employers are hiring right now?
Beyond these social media employers, nearly every single company hires people to work in their social media departments. There they can find jobs like social media manager, brand strategist, community director, content producer, blogger, content strategist, brand ambassador, social media director, engagement manager, social media analyst, or many others. If you find yourself regularly checking social media, maybe it's time to get paid to be a social media expert.
If you don't see your dream job, set up a Job Alert and JobMonkey will notify you when a job that matches your job search hits the job board. It's totally free.
It's really cool to find a social media job. Plus, social media employers are known for their enjoyable office culture. There's really no reason to not find a social media job! You'll love it.