Do you have any tattoos? Whether you have a tattoo on your ankle, your upper arm, or your lower back, many employers see tattoos as taboo in the workplace. What do you think?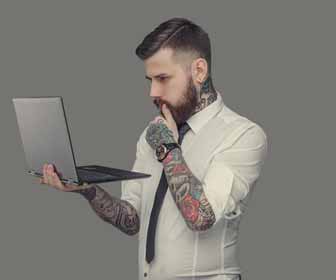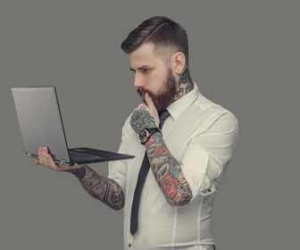 There is a certain stigma against visible tattoos in the workplace. Supposedly they negatively impact your credibility, people find them inappropriate at work, and they symbolize the appeal of the counterculture, but is this really true?
Not exactly, the negative stigma against tattoos is slowly dissolving. In fact tattoos are become much more accepted in today's world. From entry level workers to corporate executives, a little bit of ink in the form of skin art is becoming more common – but it doesn't mean you won't still be discriminated against for having a tattoo in the hiring process.
Learn More About Tattoos And Your Job Search
We ran across a very cool infographic titled Tattoos In The Workplace from Skinfo.com that reveals all sorts of interesting statistics about tattoos in the workplace.
If you have a tattoo or you are thinking about getting a tattoo, here are some statistics about tattoos in the workplace that you need to see:
37% of HR Managers Cite Tattoos As The Third Most Likely Physical Attribute That Limits Career Potential
42% of People Of All Ages Feel That Visible Tattoos Are Inappropriate At Work
45 Million People In The US Have At Least One Tattoo
0 States Have Laws Protecting People With Tattoos From Discrimination In Company Hiring Practices
Neck, Head, and Face Tattoos Continue To Carry The Most Considerable Stigma
96,000 Tattoo Removals Were Performed In 2014
$588 – The US National Average In 2013 For Tattoo Removal Procedures
14% of People With Tattoos Regret Their Decision To Get A Tattoo
Percent Of People With Tattoos In Different Careers
Military – 36%
Agriculture/Ranching – 22%
Hospitality, Tourism & Recreation – 20%
Arts, Media & Entertainment – 16%
Retail – 14%
Finance & Banking – 13%
Healthcare – 13%
Professional Services – 13%
Education, Child Development, & Family Services – 12%
Manufacturing – 9%
Engineering, Design, & Construction – 9%
Information Technology – 9%
Government – 9%
Top 15 Most Tattoo Friendly Cities (Search Jobs By Location)
San Francisco, California
Austin, Texas
Pittsburgh, Pennsylvania
Philadelphia, Pennsylvania
Detroit, Michigan
Chicago, Illinois
Miami, Florida
Portland, Oregon
Atlanta, Georgia
Los Angeles, California
Denver, Colorado
Phoenix, Arizona
San Diego, California
Las Vegas, Nevada
New York, New York
36 Most Tattoo Friendly US Companies
Whole Foods
Sally's Beauty Supply
Hot Topic/Torrid
Trader Joe's
Borders Books
Target
Claire's Boutique
Piercing Pagoda
Burlington Coat Factory
Albertson's
Big Lots
Barnes & Nobles
IKEA
Forever 21
Journeys
Spencer's Gifts
Staples
Ticketmaster
Hard Rock Cafe/Hotel
Best Buy
Kohl's
Anthropologie
Home Depot
Lowe's
Mac Cosmetics
LUSH Cosemetics
Tokyo Joe's
Dunkin Donuts
Half Price Books
AppleBee's
The infographic from Skinfo.com is filled with informative statistics that you should read and explore. This is important information for both job seekers, tattoo lovers, and hiring managers. Be sure to share it with your friends.
Are you ready to start your tattoo friendly job search?