If you want to land a job, you're going to need the skills to do the job. It's as simple as that. So where are you going to learn all of the skills you need to beat out the competition during the job search? One good place to start is to tap into your transferable skills.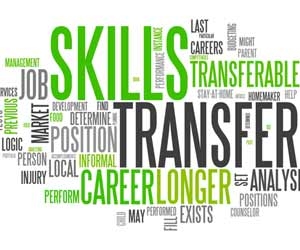 Transferable skills are skills and/or knowledge that you learn and develop in one situation that can then be used and applied in another situation. Transferable skills are things you learn throughout your life. You may develop these skills at social functions, in the classroom, while playing sports, or at that job that you hated. The great thing about transferable skills is that you already have them.
Skills Get Jobs – Know Your Strengths
Transferable skills can include any number of things – team work, leadership, group management, budgeting, guest service, problem solving, coding, communication, research, or just about anything else. Brainstorm the skills that you've developed throughout your life experience. Be specific and pinpoint exactly how your transferable skills relate to the job you want to apply for.
Now to answer your question, Why are transferable skills important?
Transferable Skills Make You Adaptable – Versatility is the name of the game in the job market. Employers want people who can do multiple things and fill different roles if needed. When you have skills that apply to a wide variety of things, employers will take note.
You Already Have Transferable Skills – You learn transferable skills everywhere – at life, at home, or at work. The cumulative experiences that you have will dictate what transferable skills you possess. No matter what you do or where you do it, you have skills. As long as you can figure out how to sell your skills to a hiring manager, you'll be in a good position.
Transferable Skills Are Yours To Keep – You are constantly accumulating transferable skills and no one can take them away from you. These portable skills go with you from job to job. Take account of your skill set and you'll see how you can apply it to your job search.
You Can Use Transferable Skills To Land A Job – Employers want job candidates to have experience and skills before they hire them. Transferable skills are a way for you to show that you can do the job, even if you aren't the perfect match of the job description. Therefore the more relevant skills that you have, the more likely you will be to land the job. Transferable skills can highlight your potential to be an asset to a company.
It's your job to apply the transferable skills that you possess to your job search. For example, as a summer camp counselor you learned how to manage kids, organize activities, and communicate clearly. Now you can take these same skills and apply them to being a ski instructor, a raft guide, or a retail store manager. As you can see your experience as a camp counselor makes you more marketable to other industries. This is why transferable skills are so important.
Transferable skills are essential to landing your next job. Luckily, you are constantly developing new skills through your life and your professional experiences. It's your job to identify these skills and turn them into your unique selling point.