The global hotel and resort industry is forecasted to make $550 billion next year!  There are 1000's of hotels and resorts in 100's of different countries – making this niche a fantastic place to find a job abroad.
When you land a job with an international brand of hotel and resort you'll get to work in cool places like China, Cayman Islands, Austria, Brazil, Hawaii, Maldives, New Zealand, Bahamas, United Kingdom, Chile, Saudi Arabia, California, or Bali. The options are endless.
Check Out JobMonkey's Hotel and Resort Industry Guide
People from around the world head to hotels and resorts for travel, business, and a bit of rest and relaxation. To cater those guest's needs, people are needed to fill all sorts of cool jobs.  Millions of people work in this hospitality niche. You too can easily join this crew of happy hotel and resort employees. Whether you love the mountains, the beach, the city, or the countryside, a hotel and resort job is ideal for you.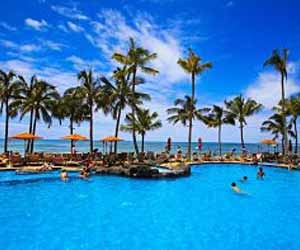 Take a look at the JobMonkey Job Board to find real job listings with hotel and resort employers like:
Beach Attendant
ESL Instructor
Recreation Attendant
Sous Chef
Personal Explorer
Mixologist
Naturalist
Florist
SCUBA Dive Instructor
Front Desk
Massage Therapist
Plus, when you work for a global company like Marriott, Hilton, Hyatt, or Ritz-Carlton, there are always opportunities to rise up through the ranks. If you get your foot in the door as a bellboy in your home country, you'll be more likely to move up in the same company to a management position in a global destination like Argentina, Thailand, or Australia. Although you'll still have to qualify for a work visa, big companies like this can often sponsor you – making it a great way to find jobs abroad.
Here are some hotel and resort employers that you'll want to add to your job search:
Hotel and resort jobs are one of the absolute best way to find a cool job with a reputable company. Start small and see where your journey takes you. Find your next hotel and resort job on the Job Board today!