Are you looking for a fun job? Why not find a job on a cruise ship?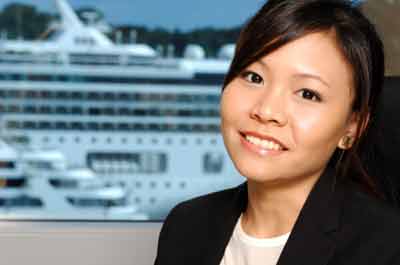 The cruise ship industry generates $37.85 billion for the US economy each year. Over 20,000,000 passengers enjoy pleasure cruising to destinations such as Caribbean, Hawaii, Mexico, Bermuda, Alaska, Mediterranean, Europe, Africa, Antarctica, or Asia. These passengers are catered to by 314,000 cruise industry employees. That's a lot of jobs! Discover more fun cruise industry statistics here.
As a cruise line employee, you get to work on a cruise ship, travel to far flung destinations, and essentially get paid to travel the world. It's a pretty sweet gig. Essentially cruise ships are massive floating cities. They are equipped with everything you could possible need – casinos, restaurants, retail, parks, theaters, water slides, and other amenities. Just think about all of the cool jobs that a cruise ship needs – and there are hundreds of cruise ships!
Learn more about cruise ship jobs
Did you know that the biggest cruise ship measures 4 football fields long, is 16 decks high, and can carry over 6000 people? That's massive. It must be quite an incredible experience to work in an "office" like that!
We ran across a cool list on Business Insider that looks at the best cruise lines in the world. The list was originally produced by FindTheBest. It ranks cruise lines based on reviews, satisfaction reports, expert ratings, crime, health inspections, and other factors. Here are the best cruise line employers:
10. Royal Caribbean International
9. Norwegian Cruise Lines
8. Seabourn Cruise Line
7. Crystal Cruises
6. Silversea Cruises
5. Regent Seven Seas Cruises
4. Oceania Cruises
3. Cunard Line
2. Azamara Club Cruises
1. Disney Cruise Lines
When an employer runs a tight ship, it usually means they provide a quality place to work. Some of the other best cruise line employers worth checking out include:
What are you waiting for? Find a cruise ship job today. It's easy to do. Just visit the JobMonkey Job Board. Apply today and you could be shipboard and headed to paradise tomorrow.
Read more about cruise ship jobs on JobMonkey. We also highly recommend checking out CruiseJobFinder – this site certainly knows a lot about working in the cruise line industry. Enjoy your new job!