Cover letters are one of the most important parts of the job search. Even if you are the world's best applicant for a job, if you botch the cover letter you have absolutely no chance of making it to the interview round. Get the cover letter right, and you'll boost your chances of finding a job.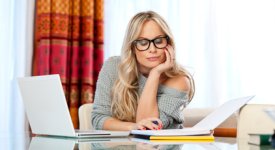 Recruiters  have to sift and sort through countless job applications to select the best candidate. They get inundated with cover letters and resumes every day. The cover letter and resume are your first chance to impress these power yielding recruiters. Don't make any cover letter mistakes.
The person reading your cover letter may only spend a few seconds skimming it to see if you make the cut. If you're lucky, they will read your greeting and opening sentence, but there's a good chance they won't make if much further than that. That means you better nail it right away.
How To Write The Best Cover Letter Ever
How do you start your cover letter? Do you use one of these standard greetings?
Hello,
To Whom It May Concern:
Dear Sir/Madam:
Hey!
Hopefully you don't. When you're writing a cover letter, you need to do your research. Always address your cover letter to a specific person. Determine who the hiring manager is or the name of the recruiter. Address your letter to them. Show that you care enough figure out who you're writing to.
After you address the cover letter to a specific person, it's time to dial in your opening sentence. It's not uncommon to see cover letters start with one of these boring, generic lines:
I am emailing to apply for the job…
I'm not perfect, but…
My name is…
Please find my resume enclosed…
Are you yawning yet? We are. Your opening sentence must be an attention grabbing, well-crafted sentence. Paint a picture with words, but keep it short and sweet. The length of a Tweet (140 characters) is ideal. You have to hook the recruiter and make them want to learn more about why you will be an asset to their company.
To write a compelling, attention grabbing opening sentence, try to use one of these tactics:
Mention a personal reference
Note any recent company news or accomplishments
Utilize job description keywords
Use a relevant quote or anecdote
By using these cover letter strategies, you'll make your cover letter stand out. You'll be different and recruiters like that. Customize your cover letter – anything cookie cutter and template-based is boring. Take the time to craft the perfect cover letter for every job. It will make a difference in your job search.
Need more cover letter tips? JobMonkey's got you covered!