Searching for a job? There's an app for that. The right apps can help to streamline your job search and help you find the job you've always wanted. All you have to do is download them and use them.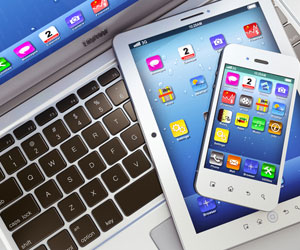 Whether you're on a smartphone, tablet, or desktop, apps can do a wide variety of things that will help your job search. There are apps for resumes, social media, networking, budgeting, job searching, business cards, interviewing, scheduling, video interviews, job boards, and more. Apps are totally revolutionizing the job search.
10 Job Search Apps Every Job Seeker Needs
Download the right apps and it can make a huge difference in your job search. You don't have to be super tech-savvy to use job search apps either. Most of these user friendly apps will work anytime, anywhere.  You'll be impressed by what you can do while on-the-go.
Below you'll find a selection of apps for job seekers that will help you find your next job:
Calendar
DropBox
LinkedIn
Resume
CityHour
Interview Prep Questions
Mail
Are there other useful apps? Absolutely! We highly encourage you to shop around for the best apps for job seekers. You'll be amazed at the selection of apps available. There are plenty of free job search apps, but often the paid options deliver more functionality and may be more useful for your job search.
One last helpful "app" hint: If you find a useful webpage for your job search, be sure to bookmark it and add it to your home screen. Then your favorite sites are only just a tap of an app away. For example, this is a fantastic way to search for jobs on the go by using the JobMonkey JobCenter.
Are there any apps for job seekers that you think are top notch? Stop by our social media outlets and share your favorite job search apps with us.
See Also: