Trying to figure out the right career path for you? Why don't you become an architect? A career in architecture is a cool and creative way to make a living. In this post, we'll look at a variety of reasons why you should become an architect.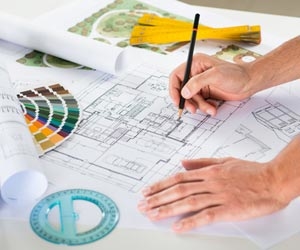 Here are the top 10 reasons why you should become an architect:
Creative Niche – Architecture is a high paying creative niche where you'll get paid to think outside the box and create useful, functional, and livable spaces for clients.
Solid Pay – According to BLS.gov, an architect will make $76,930 per year or $36.99 per hour on average.
See Your Hard Work Take Shape – Architects work with clients to design and build structures. It's rewarding to watch a project go from concept to completion.
No Shortage Of Work – As long as buildings need to built, restored, or refurbished there will always be work for a talented architect.
Architecture Is A Lifestyle – If you're passionate about architecture, this career path will become a lifestyle not a job. That's what every job seeker is looking for.
Be Your Own Boss – Once you build your architectural portfolio, it's easy to branch out on your own and start your own company or find freelance/contract work.
Job Security – There is a constant demand for architects. Since it's not a physically demanding job, you can work as an architect until you're ready to retire.
Plenty Of Variety – Every architecture project is different. As an architect you might specialize in residential homes, or you can switch it up from project to project.
Respect – Being an architect is a career path that demands respect. It's not easy to make it in this career. This job requires a thorough education and natural talent for design.
Constantly Evolving Field – Architecture is always changing, which will keep you on your toes and hopefully challenge you to stay on top of your career. This will help to keep your career fresh and exciting.
What do you think? Are you ready to become an architect? To pursue this cool career, you'll need to earn a Bachelor of Architecture degree. It's also wise to earn a Masters degree in architecture. During your education you'll learn about history, theory, design, software, construction, math, science, and more. Once your education is complete, you'll be eligible to earn your architecture license in your state and begin to work. Learn more about life as an architect on BLS.gov.
If you're a creative person who loves creating something from nothing, then you need to learn more about the architecture world. If you fully commit to becoming an architect, it will most likely be the best decision you ever make.
See Also: