Do you want to find creative jobs that pay well? If you're a creative person who likes to think outside the box, break all the rules, and let your imagination run free then we have a list of dream jobs for you!
Creativity is an exciting thing. The creative process includes brainstorming fresh and unique ideas, seeking inspiration, researching visions, and ultimately creating new things. Creative jobs let you act on your visions and create something that the world may never have seen before. It requires trial and error and definitely a bit of risk-taking to successfully capitalize on your creativity.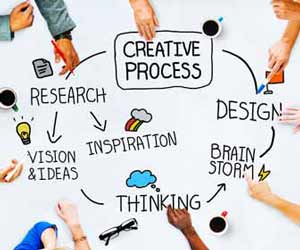 Not everyone is going to like your original written work, your quirky paintings, your groundbreaking websites, your forward thinking ideas, your unique jokes, your outlandish outfits, your wild video games, or your life-changing inventions. But if you believe in your vision and can bring your creativity to life, you'll be successful. You might even be able to pull in over $80,000 per year!
It's amazing how many careers require creativity. It's a key component in many different jobs, careers, and fields. It's up to you to tap into your creative talent to see where it takes you.
Which of these 50 creative jobs that pay well are you going to pursue?
Painter
College Professor
Artist
City Planner
Industrial Designer
App Developer
Author
If you want to find creative jobs that pay well, plan to start at the bottom and work your way up. Earn a degree, join a professional organization, seek a mentorship, build your reputation, gain experience, and most importantly create an outstanding portfolio that will wow anyone and everyone. This is the key to making good money in a creative niche.
Pay for creative jobs can vary greatly. It often depends on your location, your clientele, your niche, and your creative talent. Explore the salary ranges of these creative jobs on JobMonkey.com – we think you'll be pleasantly surprised. The salaries for these creative jobs range from about $25,000 to $100,000+. Plus, the majority of creative professionals look forward to going to work!
Is it time to let your creativity flow? Start your search for creative jobs that well on the JobMonkey JobCenter today.