Dreaming of a career in law enforcement? Why don't you become a sheriff?
Sheriffs are the highest law enforcement officer in a county. They are typically elected officials who are responsible for keeping the peace and enforcing the law of the land. It's a cool law enforcement niche that you might want to consider pursuing.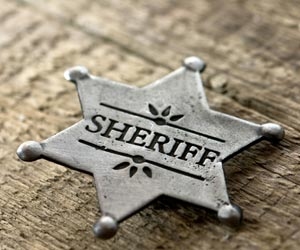 Learn More About Careers In Law Enforcement
Sheriffs are elected officials who work side by side with other law enforcement agencies like police, state troopers, or parks and wildlife. They are typically elected for set terms of four years. The length depends on the state and county where they reside.
Nearly all counties in all states have sheriff's departments. Sheriffs work in both rural, suburban, and urban areas. Their duties depend on their location, but may include tasks such as:
Making Arrests
Serving Warrants
Giving Tickets
Controlling Traffic
Dealing With Animals
Investigating Accidents
Transporting Prisoners
Running Security At Events
Operating County Jails
Protecting Citizens
Investigating Crimes
As you can imagine, it's an action packed job where no two days are the same. To become a sheriff, you'll need to:
Earn A High School Diploma Or Equivalent
Graduate From Policy Academy Or Law Enforcement Institute
Earn A Degree In Criminal Justice
Run For Office And Establish A Political Campaign
Win The Election For Sheriff
Being  a sheriff is a demanding job. You'll be tasked with keeping your constituents happy and keeping your town safe. Do a good job and it can lead to a long career in law enforcement or it can jumpstart your journey into politics.
Are you ready to become a sheriff? It's an exciting job that can take you down an interesting and unique career path.
Fun Sheriff Fact: Did you know that Grover Cleveland was a sheriff before he served as US President?
See Also: