One of the biggest holidays in the US is only a few weeks away. America's Independence Day is one of the largest celebrations of the year. What are you doing for the 4th of July?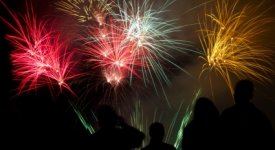 The 4th of July is always a fun filled event with picnics, outdoor activities, and of course an extra long weekend off from work. One of the most popular ways to celebrate this summer event is with fireworks. Across the US, there will be thousands of elaborate firework displays that will light up the night's sky and be enjoyed by countless bedazzled spectators.
Find the best fireworks display near you and be sure to attend. Or better yet, try to get a job working at it. The pyrotechnics industry is a fantastic place to find short term work. There are eager and enthusiastic explosive lovers working hard behind the scenes to design the shows, shoot the fireworks, and ensure everyone's safety.
The pyrotechnic industry is a multi-million dollar niche that booms during big events like the 4th of July, New Year's, the Super Bowl, and other festivities. It would probably be an even bigger industry, except that it is very highly regulated.
Learn How To Become A Pyrotechnican
The best way to break into the exciting world of fireworks is to find a mentor who lets you volunteer or be an apprentice. Log your hours working with fireworks and take pyrotechnic courses to earn operator licenses and shooter certifications. Before you know it, you'll be the pyrotechnician who's running the show for thousands of captivated firework fans.
Make plans to attend a fireworks show near you soon. Watch the spectacular explosions and magical lights in the sky above your head. But more importantly pay attention to how the show works. This will help you determine if this is a cool job for you.
If so, visit the JobMonkey industry guide on Pyrotechnic Jobs where you can learn more about how to become a pyrotechnician and what this industry is all about. We know this is a job that you're going to love.