Hydroelectric Energy Jobs
Hydroelectric power is the process of using water's energy using hydraulic turbines to create electricity. Hydroelectric power is considered to be a clean, renewable source of energy, releasing a very low level of greenhouse gases when compared to fossil fuels. Costing far less to produce and operate than fossil fuel, it is a growing sector of the renewable energy industry.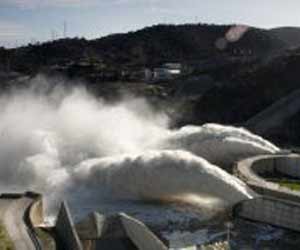 Education
Currently, there are no hydroelectric power degree programs offered at any major universities. However, for an individual who wants to work in the hydroelectric power industry, there are a lot of educational paths he can take. A degree in engineering, physics or a field in the natural sciences is a qualification for work in this industry. Also, many universities offer renewable energy degrees and certifications.
Hydroelectric Careers
Electricians/Technicians
Hydroelectric power sites need electricians and technicians to perform work in the construction, maintenance, and repair of electrical equipment, machinery, and power fixtures used at hydroelectric sites.
Electricians and technicians are required to be licensed and certified and experienced in the hydroelectric industry, or a related field. Salaries are usually paid by the hour, or are in the lower ranges of $30,000-$40,000.
Hydroelectric Engineering Jobs
Hydroelectric engineers develop and maintain the mechanical technology at hydroelectric plants and oversee the overall performance on the plant.
Advanced degrees are preferred, but bachelor's degrees in civil or mechanical engineering are accepted. Depending on the level of the position, experience is required in the hydroelectric industry or a related field.
Engineers must be certified and licensed. Salaries for hydroelectric engineers range from $70,000-80,000 per year. This will increase with experience, and many engineers in the field make over $100,000.
Hydroelectric Plant Manager
An individual in a management position oversees the organization and overall performance of the hydroelectric project, performance, and equipment. Managers are also responsible for ensuring compliance with local, state and federal regulations and laws. Managers usually hold an advanced degree in engineering and at least five years of experience in the industry. The annual salary range for managers in this in the hydroelectric power industry is $80,000-120,000.
Resources
The Hydroelectric Power Subcommittee