Vocabulary.com defines the word happy as "a feeling of joy, pleasure, or good fortune – exactly how you'd feel if you learned that you won the lottery or got accepted into your number one choice of college." Happy isn't an adjective that many people associate with their employer, unless they work for one of the happiest companies in the US.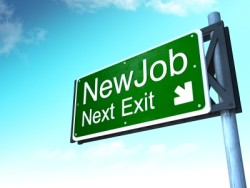 Everyone strives to be happy in life. A major factor in a person's happiness level is their job and their employer. When you find the right match, going to work is something you look forward to, not something you dread. Is it time to find a new happy job?
We recently stumbled across an awesome post on Business Insider that highlights the top 26 Happiest Companies in the US. The list is based on information from PayScale that ranked the 50 Best Companies To Work For In America. Focusing on Fortune 500 companies, the companies were chosen by ranking six criteria:
High job satisfaction
Low job stress
Ability to telecommute
High job meaning
Experienced median pay/total cash compensation
Salary delta
The following list of the happiest companies focuses on job satisfaction rates. All of the extra happy companies have job satisfaction rates that are through the roof. In total BI ranked 26 companies. The following were determined to be the happiest companies in the US:
Eversource Energy – 93%
Domtar – 93%
Facebook – 93%
EOG Resources – 91%
Anadarko Petroleum – 91%
The J.M. Smucker Co. – 90%
Dover – 89%
Kinder Morgan – 89%
NiSource – 88%
SanDisk – 87%
The Hershey Co. – 87%
D.R. Horton – 87%
Union Pacific – 86%
Joy Global – 86%
Devon Energy – 85%
Genworth Financial – 85%
W.R. Berkley – 85%
Marathon Petroleum – 84%
International Paper Co. – 84%
Southern Company – 84%
FirstEnergy – 84%
Google -84%
Celgene – 83%
The Priceline Group – 83%
Vanguard Health Systems – 83%
TravelCenters of America – 83%
Three companies tied for #1 with a 93% job satisfaction rate. Every company on the list had at least an 83% job satisfaction rate. That's ridiculously high!
It's important to be happy and surround yourself with like-minded people. Imagine if you could find one of the happiest jobs at one of the happiest companies in one of the happiest countries. That would be a pretty stellar combination!
It's totally possible, when you use the JobMonkey Job Board to help you search for happy jobs in happy places. Put a smile on your face and start your job search today.