Are you a happy person? A lot of your happiness stems directly from the job that you do each day. Why not find a happy job?
We stumbled upon a cool post from CareerBliss that looks at the happiest jobs of 2015. They compiled a list of the happiest jobs and the unhappiest jobs based on 25,000 user submitted reviews.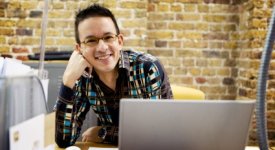 The reviews focus on normal jobs – not jobs like rock stars, sports photographers, or mountain guides. The reviews rated job satisfaction on a scale of 1 to 5 based on the following criteria:
The person one works for
The people one works with
The support and rewards one receives
The growth opportunities available to a person
The company culture
The way one works and handles their daily tasks
When you spend eight hours a day at work, you might as well enjoy what you do. Why not pursue one of the happiest jobs of 2015? Here are the top ten happiest jobs:
Automation Engineer
Research Assistant
Oracle Database Administrator
Website Developer
Business Development Executive
Systems Developer
Head over to CareerBliss to learn how each job ranked. They also highlight the unhappiest jobs and have some quotes from people who are employed in these happy jobs. It's worth checking out.
Everyone finds happiness in different jobs, but this list is a good place to start your search for happiness. If you have to go to work, you might as well go with a smile on your face. Search for one of the happiest jobs of 2015 on the JobMonkey Job Board today.