Calling all climbers, skiers, and mountaineers. If the mountains are your life, find a job as a mountain guide. Mountain guides get paid to climb, ski, trek, hike, and play in the mountains. It's one of the best jobs ever. Mountain guiding is a demanding career. It's physically and mentally challenging. Dealing with clients in remote and risky situations can be stressful, but the joys that come from doing what you love are well worth it all.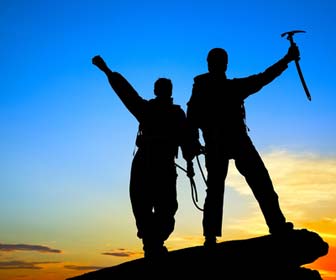 People enjoy being in the mountains. There's something about pushing your comfort zone and achieving a summit, finishing a route, or skiing deep powder. It's rewarding to everyone that tries it. And guiding is a big business that seems to be growing.
It's no easy task to become a mountain guide though. Many get their start through vast personal experience and trips in the mountains or by working as a backpacking leader at an outdoor leadership school. Then it's all about getting your foot in the door with a guiding company.
Mountain guides should be certified by a national organization like the American Mountain Guides Association (AMGA). They must be experts at rock climbing, alpine climbing, ice climbing, and skiing. They need to develop a strong mountain sense from years of experience in the mountains. And they need the people skills that allow them to work well with guests.
Many mountain guides travel to mountain ranges around the world working with clients of all abilities. Others base themselves out of mountain towns like Jackson, WY where they guide their local range for a permitted guiding company. The guiding life can be a juggling act. It often requires chasing seasons and following work to remote destinations across the country and around the globe. Mountain guides may find work as:
Rock Climbing Guide
Ice Climbing Guide
Ski Guide
Heli Ski Guide
Alpine Guide
Glacier Guide
Mountain Guide
Learn More About Mountaineering Guide Jobs
If you're physically fit, love the mountains, enjoy working with people, and consider yourself an excellent teacher. Begin the process of becoming a mountain guide. It takes time and experience, but you'll love it.
As a mountain guide, you essentially get paid to do the things that you love to do. What could be better than that?