Avalanche Forecaster Jobs
Snow is one of Mother Nature's coolest phenomena's. You can build snowmen with it, ski or ride over it, spin your car on it, or gawk at its beauty when you see it. But what many people don't realize is that snow is also incredibly dangerous. When snow piles up over the winter season, it creates a sort of layer cake of different storms. The snow pack is affected by mountain weather, aspect, slope, sun exposure, and it can create weak layers…weak layers that can cause deadly avalanches.
It is the job of an avalanche forecaster to advise the public on what the snow is doing. Their job is to ask how stable is the snow?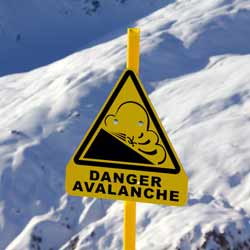 It's a pretty amazing job if you want to spend about 75% of your time outside in the snow, sliding around, looking at the snow pack. An avalanche forecaster's job is to take a look at mountain weather, snow pack, avalanche activity, and historical data to promote avalanche awareness. It's their job to write and document avalanche reports, forecasts, advisories, special warnings, accidents, reports, and statistics. Then make this information available to the public.
Every winter day, people head into avalanche terrain. They may be driving along Colorado's I-70 corridor, heading out a ski resort's backcountry gate in Montana, riding their snowmobile to a remote peak in British Columbia, or going on a backcountry ski tour in Utah. It is the responsibility of each of these individuals to be safe; in the backcountry no one can help you, but you. Besides having a personal knowledge of snow, avalanches, and backcountry travel, backcountry users refer to an avalanche expert's professional forecasts.
This means that every day avalanche forecasters are in the mountains before sunrise looking at what happened to the snow since the last forecast. They use shovels, probes, rulers, magnifying glasses, thermometers, and their own personal experience to examine the snow pack. They perform compression tests and column tests. They take note of changing mountain weather, different aspects, snow weight, water content, and much more. After getting samples that represent the whole snow pack at different locations and elevations. They prepare an updated avalanche advisory that can be accessed by Internet, phone, or email.
Avalanche forecasters have a truly unique job. They can find work with ski resorts, roads or highways, mines, avalanche centers, or national forests. As you can imagine, these jobs are only available in places where there is snow.
During the winter season, avalanche forecaster can make about $25 an hour or around $20,000.
Many avalanche forecasters have a science degree, but there are no formal requirements. The University of Calgary and Montana State University also have degree programs focused on snow science. If you don't have a related degree, don't fret. All avalanche forecasters have avalanche certifications from the American Institute of Avalanche Research and Education or the Canadian Avalanche Association. In the world of unpredictable snow, personal experience is the absolute biggest necessity.
Avalanche forecasters are a lot like weather forecasters because they may not always be correct. It's impossible to always be 100% accurate with a forecast, but their advisories are a great starting point for any backcountry user to add to their arsenal of avalanche knowledge. Plus you'll work in cool places like the Selkirks, Wasatch, Elks, or Monashee mountain ranges. If the sparkling of snow brings a twinkle to your eye, you may want to consider a career as an avalanche forecaster.
Quick Facts About Avalanche Forecasting
Job Title: Avalanche Forecaster
Office: The Mountains
Description: Advises public on snow safety by looking at mountain weather, snow pack, and avalanche activity
Certifications/Education: Science Degree Recommended but not required. Avalanche certifications are key.
Necessary Skills: Knowledge of snow science, avalanches, weather
Potential Employers: Forest Service, Department of Transportation, Ski Resorts, Mines
Pay: $20,000 from November to May
Helpful Avalanche Forecaster Links:
Search Avalanche Forcaster and Other Forecasting Jobs on JobMonkey
American Association of Avalanche Professionals
American Mountain Guides Association
American Institute for Avalanche Research and Education
Canadian Avalanche Center
Montana State University
University of Calgary
International Snow Science Workshop
Staying Alive in Avalanche Terrain – By Bruce Tremper