Every year we wait patiently for Outside Magazine to reveal their annual list of the 100 Best Places To Work. The list is different every year and it's an excellent reminder that where you work is as important as what you do.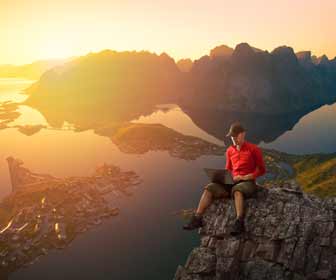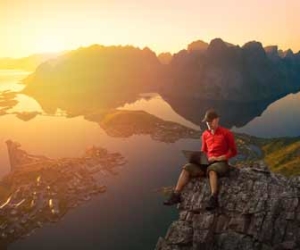 When you're searching for a job, it's absolutely mandatory that you research your potential employer. Your employer directly impacts your life in more ways that you can imagine – pay, office life, co-workers, perks, benefits, culture. That's why Outside Magazine's list is so important – it highlights the best employers and tells you what makes them so awesome.
The 100 Best Places To Work was published on November 16, 2015. It features employers that are committed to the outdoor lifestyle. They have calculated a perfect combination of work, play, and fun loving culture. These businesses include breweries, advertising agencies, solar installers, tech startups, therapeutic wilderness programs, apparel companies, construction companies, and other niches.
These companies provide their happy employees with perks and benefits that will make anyone smile, including: table tennis tournaments, ski Fridays, brewery tours, flexible hours, slacklines in the office, 30 days of vacation, team rock climbing trips, weekly dinners, employee referral bonuses, deals on gear, midday whitewater paddles, solid health insurance plans, stellar views, dog friendly offices, remote work opportunities, 401k's, extra cash for NOT driving to work, backpacking trips, book clubs, annual cruises, airfare allowances, volunteer opportunities, fresh produce deliveries, and the list goes on and on.
We know you're itching to find out what companies made the list. Here are the top 50 of the 100 Best Places To Work In 2015:
GroundFloor Media – Denver, Colorado
Drake Cooper – Boise, Idaho
Ergodyne – Saint Paul, Minnesota
Spawn Ideas – Anchorage, Alaska
CauseLabs – Denver, Colorado
Young & Laramore – Indianapolis, Indiana
Nemo Design – Portland, Oregon
Stance – San Clemente, California
The Trade Desk – Ventura, California
TDA_Boulder – Boulder, Colorado
Pellucid Analytics – Boulder, Colorado
BrainStrom – Orem, Utah
Cloud Elements – Denver, Colorado
Realeflow – Parma Heights, Ohio
Zen Planner – Highlands Ranch, Colorado
TeamSnap – Boulder, Colorado
Zozi – San Francisco, California
AmeriCan Adventures – Santa Rosa, California
Ecology Project International – Missoula, Montana
Cloud 9 Living – Boulder, Colorado
FullContact – Denver, Colorado
The Honest Kitchen – San Diego, California
Bluetent – Aspen, Colorado
Peaksware – Boulder, Colorado
VictorOps – Boulder, Colorado
GeoEx – San Francisco, California
Foothold Technology – New York, New York
Southwest Michigan First – Kalamazoo, Michigan
Sterling-Rice Group – Boulder, Colorado
Carmichael Lynch – Minneapolis, Minnesota
Slice of Lime – Boulder, Colorado
ReWork – New York, New York
MERCURYcsc – Bozeman, Montana
Namaste Solar – Boulder, Colorado
New Belgium Brewing – Fort Collins, Colorado
Tendril – Boulder, Colorado
Adaptive Sports Center – Crested Butte, Colorado
Organic Valley – LaFarge, Wisconsin
Geocaching – Seattle, Washington
SolidFire – Boulder, Colorado
Montana Wilderness Association – Helena, Montana
ReadyTalk – Denver, Colorado
Cornerstone OnDemand – Santa Monica, California
The Frontier Project – Richmond, Virginia
Ontraport – Santa Barbara, California
Evoke at Entrata – Santa Clara, California
CCY Architects – Basalt, Colorado
Hawaii Forest & Trail – Kailua-Kona, Hawaii
G Adventures – Toronto, Canada
Colle + McVoy – Minneapolis, Minnesota
Other companies that made the list include Aspen Skiing Company, SmartWool, Backroads, Superfeet Worldwide, The Mountaineers, IDX Broker, Deschutes Brewery, North Carolina Outward Bound School, Skullcandy, and many more. You can read a brief description about every single company on the list on Outside Online.
Outside worked with the Best Companies Group to create this list. The rankings are based on employee reviews of categories like corporate culture, policies and perks, role satisfaction, work environment, and overall employee engagement. Want to see who made the Outside's Best Places To Work list in 2014?
Don't get stuck in a job you hate. Choose an employer that will help you find happiness. This list of the 100 Best Places To Work is a great starting point for any job search. Are you ready to find your next job?