Emergency Medical Technicians, or EMTs, are health care professionals who help sick and injured individuals in emergency medical situations. These first responders respond to medical incidents and accident scenarios where they provide care and facilitate transportation to more advanced medical facilities. EMTs are healthcare heroes who save lives. That's a cool job.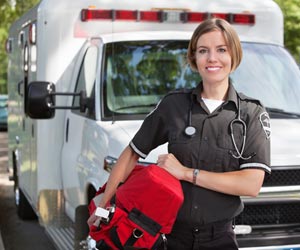 Here are 7 cool reasons to become an EMT:
Every Day Is Different – You won't be bored as an EMT. EMTs respond to all sorts of calls dealing with different situations in different locations.
In Demand Job – EMTs are in demand. Medical and trauma accidents happen in random places at unexpected times. EMTs are constantly on call to assist people in trouble.
Growth Potential – The EMT certification is the starting point for a cool healthcare career. After the EMT-B, you can then earn an EMT-I or Paramedic certification. Or use your baseline knowledge to kickstart a career in nursing or get an education in medicine.
Diverse Opportunities – Earning an EMT certification is a good way to find work on an ambulance, as a firefighter, or as ski patrol. This professional certification can open lots of doors.
Helping People – EMTs help people who need medical care. Working as an EMT is a rewarding way to make a living.
Professional Level Certification – Putting an EMT certification on your resume will impress recruiters. This professional level certification is always a positive thing to add to a resume.
Build Solid Life Skills – EMT training can help build a foundation of first aid knowledge that you can apply to your own adventures and keep handy for other emergencies.
According to the BLS.gov, hundreds of thousands of people hold an EMT or Paramedic certification. These healthcare workers earn an average of $31,980 per year or $15.38 per hour. This job niche is expected to grow by 24% in the near future – that's much faster than the average profession.
If becoming an EMT sounds like a cool opportunity, you'll need to:
Are you ready to become an EMT? After you earn your certification and obtain your license, stop by JobMonkeyJobs.com to search and apply for EMT jobs.
See Also: