Paramedic Jobs
A firefighter paramedic is trained to respond to a number of different types of emergency situations. They form part of a team that is involved in putting out fires, rescuing people trapped in burning buildings, vehicles and other types of hazardous situations.
Along with the functions of a firefighter, they also assess and treat injured people. The firefighter paramedic may accompany victims to the hospital to continue treatment en route.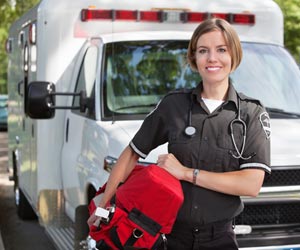 The requirements for training and licensing paramedics varies from state to state. Depending on where you want to work, your training may last from eight months to four years. Associates degrees take two years of study to complete. In addition to completing a course of study, anyone who wants to work as a paramedic must also state exams. Some jurisdictions require that paramedics keep their skills current by taking refresher courses on a regular basis.
In the field, a firefighter paramedic can perform the following functions when caring for an injured person:
Airway management, including intubation
Administering oxygen by mask
Administering intravenous fluids
Using a defibrillator (semi-automatic or manual)
Monitoring an ECG (electrocardiogram) reading
Administering medications, including analgesics to control pain, sedatives, cardiac resuscitation drugs as needed
Applying dressings to control bleeding
Immobilizing patients with suspected neck or spinal injuries
Assessing and applying splints to fractures, as appropriate
Assessing obstetrical complications and providing assistance to women in labor, including uncomplicated delivery
Assessing and treating burns
If this type of work appeals to you, it's a good idea to start by getting trained as an EMT (Emergency Medical Technician) first. Having at least six months of experience working in the field will give you an idea of whether you want to invest in the additional training to become a paramedic. Once you have completed the course requirements to work as a paramedic, you can apply for available firefighter career opportunities.
— Search Paramedic Job Listings —
Paramedic Salaries
The training involved to become a firefighter paramedic will pay off financially. Here are the latest salary figures from U.S. Bureau of Labor Statistics – https://www.bls.gov/oes/current/oes292043.htm