Are you a hunter? Do you have what it takes to be a hunting guide?
Hunting guides take people into the wilderness to hunt big game. People love to travel to far flung locales to hunt animals – moose, bear, deer, antelope, elk, wolves, turkeys, pheasants, geese, lions, tigers, zebras, bighorn sheep, bison, coyote, and countless other creatures. From big game to water fowl, hunting is a surprisingly big business.
Hunting is a growing industry. Here are some interesting statistics on hunting in the US provided by the National Shooting Sports Foundation: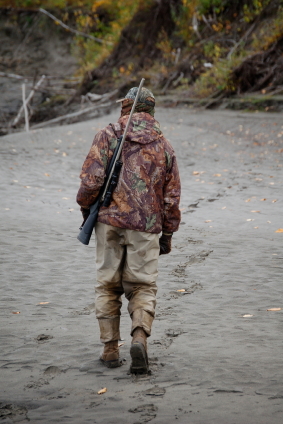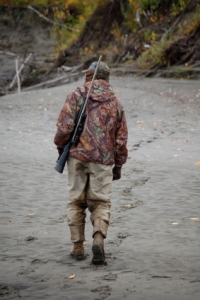 There are 13.7 million hunters.
Hunters spend $38.3 billion each year. That's $2800 per hunter.
Hunting creates 680,300 jobs.
As a hunting guide you might fly deep into the mountains of Alaska, horse pack into the Madison Range of Montana, hike into the wilds of Colorado, or drive deep into the forests of British Columbia. These are the "offices" of hunting guides.
To become a hunting guide, you need to be an expert at hunting tactics. You must be knowledgable about remote and wild areas. You need to know about the animals you're hunting. You must be an expert with firearms or archery gear. After attending hunting guide school, hunting guides can find work with hunting outfitters. They need to be licensed by the state and have multiple years of hunting experience.
As a hunting guide, it's your job to take novice to expert hunters into the wild to hunt. You'll need to be able help them mask their scent, track animals, shoot guns or bows, kill animals, clean and skin kills, and pack out the meat and trophy. This should all be second nature to you. You're also responsible for your guest's safety and you must ensure that you follow all hunting and fishing laws.
Being a hunting guide is a demanding job, but if you do a good job you can make $75 to $150 a day for spending time in the woods doing what you love. Start your job hunt on the job board today.