Hunting Guide Jobs
Hunting is truly one of the world's most popular pastimes with extraordinary roots in history. Hunting helps maintain healthy forest populations and the money brought in from hunting licenses each year helps fund U.S. Fish and Wildlife programs.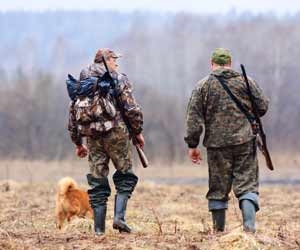 Aside from the popularity of hunting locally, more and more people travel each year with the purpose of hunting new environments and new game. Within this, an industry has developed that offers guides for hunters who wish to hunt in an area with which they are unfamiliar or to hunt game they have never previously hunted. Hunting guide programs helps maintain the integrity of the hunting industry by promoting hunting in a safe and legal way that is good for the environment as well as hunters.
Hunting guides commonly work out of an outfitter, or a program which couples hunters with hunting guides. Outfitters must be properly licensed to hunt the game for which they advertise and are perhaps the best venue for hunters and for guides who want jobs where they can hunt and get paid for it. Being a hunting guide is yet another one of those outdoor jobs that couples people's passions with their work.
Being a Hunting Guide
Hunting guides must be properly licensed hunters. Aside from years of hunting experience they must be scrupulous with safety measures and have good people skills. They will be required to work with many different personality types in a very focused atmosphere, so they must be good teachers to aid lesser skilled hunters and good guides, so that the hunting expeditions are successful. Many Hunting Guides have accreditation from a hunting guide school where they learn the skills of a successful hunter and a successful teacher.
Hunting Guide Schools
Where to find Hunting Guide Work
Because hunting outfitters, or 'hunting camps' are what many people use when looking for hunting guides, working for an outfitter is a great place for a hunting guide to begin.
The hours can be long and hard, especially during the first season, but with more experience, comes better pay. Outfitters often have bungalows or tents where guests and guides must sleep. This means for a guide, you may end up for weeks at a time at an outfitter camp, which can include weeks of bad weather or even sleeping outdoors. There are many opportunities for hunting guides in Alaska for several different seasons during the year.
Hunting Guide Pay
In the first season, pay might be low. This is because an outfitter wants to make sure their guides are serious and can make it through an entire season. Average pay for the first season is between $1,000 – $1,500 a month. Room and board, as well as food, is often included so there is incredibly earning potential for a hunting guide. Hunting guides with 2-3 years experience as a guide can make up to $2,500 a month.
How to Apply
Applicants should apply directly to a hunting outfitter. Each outfitter has different requirements, but with such a large industry, there are sure to be more than a few looking for skilled hunting guides.
Royal Tine Hunting is a hunting outfitter with a comprehensive list of Frequently Asked Questions about becoming a hunting guide.