Becoming a Professional Chef
America loves to eat, and Americans love to eat out – and that's why there is a demand for workers in the food services industry. Proving that fact even more is the popularity of reality TV shows such as Hell's Kitchen and Top Chef. In fact, Top Chef offers individuals who are already professional chefs to audition to be on the show competing in various challenges and cook-offs to win a cash prize of $100,000 to kick start their own restaurant, along with promotions and TV opportunities.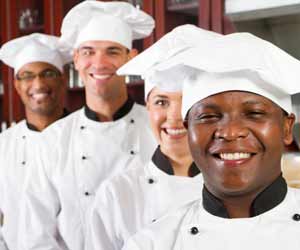 While not every chef aspires to be on a reality show, many dream of someday being the top chef at a restaurant that fits the style and type of food they like to cook. How does one become successful as a chef?
By paying attention to detail, having a deep knowledge and understanding of the product, the right attitude, the ability to understand and compete with current trends and the ability to train and understand numbers, says Summer Pruett Gosnay of Austin, Texas. Gosnay has more than 20 years of award-winning experience as a chef, with a special expertise in pastry arts and Japanese cuisine. She has held high-level chef positions in restaurants in Japan, France, the British West Indies, Texas, Colorado and New York. Her experience also includes key roles in opening restaurants at The Palms Resort in Turks and Caicos. In addition, Gosnay, who currently owns and operates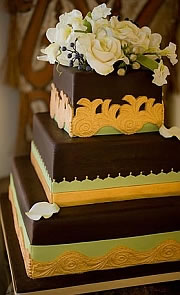 Stardust Pastry, a custom wedding cake design business, is a pastry chef instructor who earned the Le Cordon Bleu Certificate of Formal teacher training.
Gosnay talked about what it takes to become a successful chef.
"In the beginning the most important thing is learning knife skills," says Gosnay. "Along the way while earning experience in the industry, one should seek a strong mentor to learn all of the other aspects behind becoming a great chef. Those other things that cannot be learned at a culinary school include accounting, understanding food costs, setting up new vendor accounts, scheduling and time management, and most importantly, the ability to train others."
In addition to Gosnay's professional experience, she has hands-on training in classic pastry arts at The French Culinary Institute in New York City and also completed an 84-hour per week pastry internship in France, observing unique regional styles at more than 35 bakeries.
According to the Bureau of Labor Statistics chefs, cooks, and food preparation workers prepare, season, and cook a wide range of foods – from soups, snacks, and salads to entrees, side dishes, and desserts. They work in a variety of restaurants and other food services establishments. Chefs and cooks create recipes and prepare meals, while food preparation workers peel and cut vegetables, trim meat, prepare poultry, and perform other duties, such as keeping work areas clean and monitoring temperatures of ovens and stovetops.
Specifically, chefs and cooks measure, mix, and cook ingredients according to recipes, using a variety of equipment, including pots, pans, cutlery, ovens, broilers, grills, slicers, grinders, and blenders. Chefs and head cooks also are responsible for directing the work of other kitchen workers, estimating food requirements, and ordering food supplies.
Executive chefs and head cooks coordinate the work of the kitchen staff and direct the preparation of meals. They determine serving sizes, plan menus, order food supplies, and oversee kitchen operations to ensure uniform quality and presentation of meals. An executive chef, for example, is in charge of all food service operations and also may supervise the many kitchens of a hotel, restaurant group, or corporate dining operation. A chef de cuisine reports to an executive chef and is responsible for the daily operations of a single kitchen. A sous chef, or sub chef, is the second-in-command and runs the kitchen in the absence of the chef. Many chefs earn fame both for themselves and for their kitchens because of the quality and distinctive nature of the food they serve.
Many food service workers start out working in restaurants such as the local diner or café, Applebee's, Outback Steakhouse, or at a sports bar/restaurant, for example. They get the feel of what it's like to work in this fast-paced industry, and have an opportunity to learn what life is like in the back of the house – the kitchen – where all the food is prepared, made, and where the action is on any day or night. While experience in those types of jobs can help one move up in the career, formal education or training – along, with real-life experience is are all necessary ingredients to becoming a successful chef.
"Whether one is self-taught or seeks a culinary school, understanding the fundamentals of cooking is key," says Gosnay. "The east coast, specifically New York – is the best location for good culinary schools. But people do not just become chefs. It takes experience to become a chef. It is a common misconception that once you complete culinary school you are now a chef. That is far from the truth. Good hard earned experience is what makes a chef, not just school."
When applying for a job as a chef, employers are looking for someone who has held positions at successful restaurants – someone who has held positions of responsibility – someone with references who can speak highly of one's ability to do all aspects of the job, says Gosnay. They want someone who participates within the community and someone who is current on trends in the industry and who seeks continuing education opportunities with global skill and cooking sets.
Gosnay's background is highly-diverse. She has studied and worked in positions where she specializes in chocolate work, wedding cake design and banquets. As a business owner and manager she has experience with event and menu planning, recipe writing, ordering, inventory, and food cost control, while training and supervising teams of 12 in restaurant and culinary school kitchens and front-of-house management.
Many people aspire to become an executive-level chef. This person may do less of the daily food service duties, and more of the management and financial aspect of running a restaurant. Learning the different aspects of positions in a kitchen is important, says Gosnay.
Here are some other tips from Gosnay on how to succeed in this career:
When you start out be flexible, and expect long hours. Have a great attitude all of the time
It's important to remember that you will likely be working nights, weekends, holidays. Most good chef positions are for dinner service, and will work as much or as long as the restaurant needs them (which can mean up to 12-14 hour days if needed).
Get a job as a prep cook in a successful restaurant/kitchen to see if you like the lifestyle. If you like it and want formal training consider a culinary school. However there are many great chefs that are self-taught.
Understand there are jobs beyond the restaurant – chefs are needed at resorts, on cruise ships, in private residences and at hotels.
When applying for a job, remember to interview the employer and research the company – do your homework on the job and people you will be working with so you don't end up hating the job and the people you work with – because you will work closely with many people.
Work for good companies and climb the ladder. Find a great chef to learn from – a mentor who can help you and teach the tricks of the trade that go beyond school and the basic knowledge. Strive to be great and to learn from the best.
"Many people think once they complete school they are a chef and they will be famous," says Gosnay. "They don't understand the amount of hours and work required to be successful in this career."
But the rewards are worth it for those who are dedicated and motivated to succeed in this career.
"Teaching people and always eating great food while being able to create and develop new foods and ideas is a great career," says Gosnay.
Even if it isn't broadcast to the world on a reality TV show.