Do you dream about having more adventure in your life? Why not apply for one of the coolest summer jobs in the entire world? Find out if you have what it takes to become a raft guide.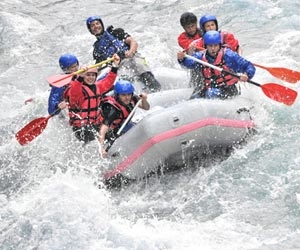 Whitewater rafting is a popular activity and as a raft guide you get paid to safely navigate guests through adrenaline pumping whitewater. It's an action packed, summer job that you're going to love. Being a raft guide is an amazing way to earn a paycheck.
Still not convinced this is the job for you? Discover the top 10 reasons why you need to become a raft guide below.
Take Advantage Of Seasonal Work Opportunities – Rafting is typically a summer job, which means you can work seasonally or you can chase the river life around the world in pursuit of the ultimate adventure job.
Play And Work In The Great Outdoors – Apply for cool river jobs in cool destinations (Idaho, West Virginia, North Carolina, Colorado, California, etc). You'll always have the best, natural "office."
Meet Adventure Loving People – The people who pay to go rafting are cool people from all walks of life. It's amazing who you might meet on a raft.
Enjoy A Good Work-Life Balance – As a raft guide, you'll enjoy a great work life balance that keeps you motivated and happy.
Get Paid To Do What You Love – When you find a raft guide job, you'll earn a paycheck for doing what you enjoy. How great is that?
Build Your Outdoor Resume – Being a raft guide is a great way to build a resume that caters to the outdoor industry. With the right strategies in place you can turn raft guiding from a job into an outdoor career.
Work For Cool Employers – The people who work and own rafting companies are fun people that run cool companies. It's always a bonus when you like who you're working for.
Enjoy Professional Discounts – As a raft industry professional, you will typically receive professional pricing and discounts on rafting related gear.
Exercise While At Work – Spend the day on the river and you'll stay in shape all season long.
Limited To No Experience Required – Almost every rafting company offers on-the-job training where they will teach you the skills you need to be successful in this industry.
Does it sound appealing to become a raft guide? It should. As a river guide, you're living the ultimate vacation. There aren't many jobs where work doesn't feel like work. How cool!
The whitewater rafting industry needs you. Learn more about the life of a raft guide on JobMonkey.com. Are you ready to discover cool rafting employers who want to hire you? See you on the river!