River Rafting Jobs
A group of complete strangers is celebrating loudly with high-fives all around, because of you.
They have just done the scariest thing in their whole life under your guidance and support. You are their hero.
This is a typical day in the life of a river raft guide. Kayak guiding jobs are similar, too. Each day rafting guides experience a little sliver of paradise. Wearing sandals and shorts, they arrive at work in some of the most majestic places in the country; the Grand Canyon, Glacier National Park, the Smoky Mountains. They experience the thrill and beauty of the river by maneuvering through rapids and basking in the sun. With each new trip, a kayaking or raft guide will provide this once-in-a-lifetime experience to a group of guests. These lucky customers will be absolutely amazed with their experience, telling friends and family about it for years. Their guide will be immortalized as an adventure expert. A whitewater raft guide not only gets to do this every day, he gets paid to do it every day.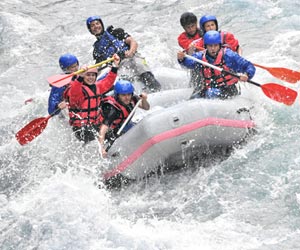 And the best part is that anybody can be a river guide.
Who is Best for a Rafting or Kayaking Job?
With rivers to raft in nearly every state and even most other countries, the possibility for employment is unlimited. Rafting companies often look to hire new guides every season. Experience is usually not required to get a raft or kayak guide job. Many companies offer an on-site guide training program prior to the busy season. Therefore, anyone can become a river guide.
— View Whitewater Rafting Guide Jobs —
Raft guiding work can either be full-time or compliment your current job with work on the weekends. Students and teachers find the job to be a perfect option for summers, while others simply enjoy the extra income and opportunity to be active in the outdoors.
Training programs teach the hard skills necessary to safely descend a river. This involves dry-land training with equipment, such as practice with knot tying and inflating rafts. The company will also teach new raft guides how to read rapids. The guides will learn to look at a whitewater rapid and quickly determine the safest and most enjoyable way through. To do this, specific paddle strokes and maneuvers will be taught.
In addition to hard skills, a guide training program will emphasize the importance of guest relations. Many people organize an entire vacation around a river rafting trip. Raft guides are responsible for maintaining a positive attitude and environment for their guests. The job involves managing group dynamics, instructing paddling technique and entertaining guests. Therefore, river raft guide jobs naturally build customer service skills required in many fields of employment.
Raft and kayak guides spend their workday interacting with the wilderness, exercising in the fresh air and being around people. They may sleep under the desert's stars or swim in cool mountain streams daily. Ideally, raft guides are those who wish to build solid leadership skills in the outdoors. Every day, they use their minds and bodies to plan and execute a successful river trip, giving each of their guests the gift of an outdoor adventure.
What Do River Raft Guides Do?
Raft guides can do it all.
They organize gear and outfit their guests. They teach their guests basic paddling skills while using more technical skills to safely maneuver a raft down class I-V rapids. They prepare tasty and well-presented meals. And at the end of the day, they celebrate this extraordinary experience with their guests and co-workers.
River raft guides are also responsible for the health and safety of their guests. Prior to employment, a guide is required to have basic First Aid training and CPR certification. Many companies provide these classes during the river guide training or throughout the season.
Related Raft Guide Training Video:
How Much Do Raft Guides Get Paid?
Typically, river raft guides get paid for every river trip or every day on the water. This rate can easily be increased with additional jobs, certification and experience on the water. A new guide will find himself getting raises with the more responsibility, leadership and commitment he/she has to the job. Since raft guiding is usually a seasonal position, many raft companies offer guide housing and some meals. This significantly cuts back on monthly expenditures, allowing raft guides to save more money than the typical 9-5 job.
Many guides move to different rivers as the season changes, experiencing new people, new environments and increasing their personal value as a raft guide. In this way, many guides work on the river for several months and take the next several months off to travel and play.
A whitewater raft job will change your life. Working on the river builds a healthier and happier lifestyle for anyone who tries it.Once you experience how fulfilling a guide job can be, you may never want to work anywhere else.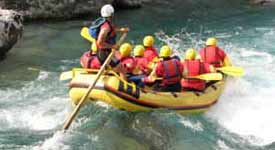 The Rafting Industry
Rafting is an exciting industry. Below are some links which contain info on how to break into the industry.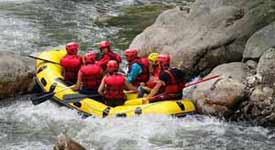 Rafting Trip Essentials
Rafting can be dangerous so it is imperative you are prepared. Here are some links to rafting essentials.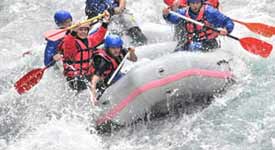 Important Links
These links will help you break into the rafting industry. Make sure to read them all carefully.