Do you daydream about the ability to work remotely? It's not such a far fetched idea. A growing number of full time employees are working from home either full time or part time. Why aren't you?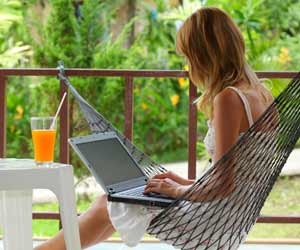 Arm yourself with the right arguments and a solid plan and you'll be able to convince your boss to let you work remotely. With today's modern technology, working remotely is a very realistic option for you. But before you can make it your reality, you need to convince your boss that this is a mutually beneficial situation.
Here's how to convince you boss to let you work remotely:
Ask The Right Questions – Before you even consider asking to work remotely, establish if it is even possible. Do you have the tools to do the job? Do you have Internet access at your home office? Is your job capable or being done outside the office? Do you have the driven personality to be successful in a remote work environment? If you answered yes, continue to the next step.
Establish The Benefits – Research remote work in your industry and niche. Make a list of benefits like saves time, boosts productivity, cuts costs, increases work life balance, creates a more laid back work environment, decreases number of sick days, and lowers turnover. Take these facts and benefits and show how working remotely is advantageous to your boss and your company.
Use Facts To Prove Your Point – We found 15 interesting telecommuting statistics from FlexJobs.com. Below are a handful that might be useful to make your case:

3.3 million full-time professionals, excluding volunteers and the self-employed, consider their home as their primary place of work.
Telecommuters save 260 hours by not commuting on a daily basis.
Half of the U.S. workforce has jobs that are compatible with remote work.
When looking at in-office workers and telecommuters, 45 percent of telecommuters love their job, while 24 percent of in-office workers love their job.
Telecommuters are 50 percent less likely to quit their job.

Prove Yourself – You won't want to ask about remote work opportunities during the job interview. Establish yourself as a hard worker who is reliable and consistently gets results for the company. Once you have a proven track record of excellence, your boss will be more likely to listen to your remote work requests.
Set Ground Rules – Sit down with your boss and establish the rules that you'll follow to ensure that all of your work is completed properly and in a timely fashion.
Start Slow – Set up a trial period where you can work remotely. After the trial period, meet with your boss and exchange feedback. If all goes well, establish a regular remote work schedule. Remember that old fashioned office time is beneficial because it builds a sense of community, allows for face to face interactions, and promotes team building – all things that need to be established before a remote work opportunity presents itself.
Be Flexible – Even if Wednesday is your day to check in from the home office, you need to be flexible. If a client is coming to the office on Wednesday you need to be there.
Be Responsive – Just because you work remotely, you don't have the right to take the day off and go surfing. You need to be working – and that means being responsive to phone calls, emails, or video conferences. Treat remote work like a job.
Document Your Day – Keep records of what you do and what you accomplish each day that you work remotely. This will help you show proof that you're a productive person when you're not in the office.
Use this plan of attack to convince your boss to let you work remotely. It'll work if you're determined and you present strong arguments. Working remotely is a reality for a large number of professionals. Establish your plan to convince your boss to let you work remotely and give it ago. It's a mutually beneficial situation and you might as well take advantage of this perk of our modern era.
See Also: