A digital nomad is someone who utilizes technology to earn a paycheck while living and working remotely. Their office is based out of a laptop or it's in the "Cloud." Their office can be coffee shops, libraries, coworking spaces, RVs, beaches, hammocks, foreign countries or anywhere that they choose. Does this type of lifestyle sound appealing to you? We thought so.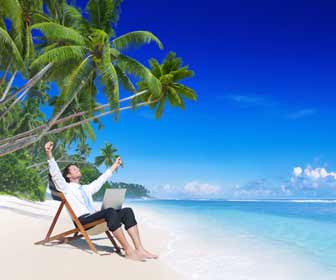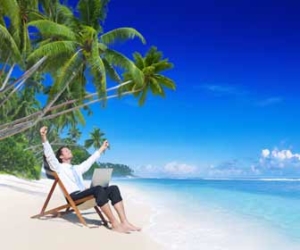 How To Travel Without Quitting Your Job
If you're looking for a lucrative lifestyle with a work-life balance that will make you smile, then you need to become a digital nomad. It's easier to do than you might think.
If you want to become a digital nomad, follow these simple steps:
Develop The Skills You Need To Work Remotely – Don't quit your day job yet. Find a job that helps you to develop the skills you're going to need to be a digital nomad – writing, photography, graphic design, blogging, SEO, etc.
Work Freelance In Your Free Time – Start your digital nomad career as a hobby. Build your portfolio, create your web presence, and expand your network.
Explore Online Universities – Take skill-building courses at an online university to see if you have the drive and motivation to work remotely.
Create Your Online Business – Either start your own business online or buy an existing online website through a broker like Flippa.com.
Tap Into The Shared Economy – Explore freelancing opportunities in the Gig Economy. There are many different ways to build your client base and the shared / gig economy is a great place to start.
Learn The Ropes From Other Digital Nomads – Join the digital nomad community. Try to find a digital mentor who can help show you the ropes. Learn from their failures and successes.
Convince Your Boss To Let You Telecommute – If you like the safety net of a "regular" job, ask your boss if you can telecommute. This is often a great stepping stone into a fully remote lifestyle.
Find Remote Jobs Online – There are plenty of remote jobs online. Find an employer with remote job listings that is seeking your skillset and apply.
Become A Digital Nomad – Once all the puzzle pieces are in line, it's time to venture out on your own. Quit your job and live the digital nomad lifestyle. You won't look back.
There are thousands of remote, virtual, and telecommuting jobs available online. You can find some of these job listings on the JobMonkey JobCenter. Alternatively, a better way to become a digital nomad is to be your own boss and to build your own business online.
There are a number of good online resources to help you decide which places you might want to live for a while. Our favorite is Nomad List which ranks cities based on a number of factors that are important to digital nomads. Kickstart your digital nomad lifestyle by joining a community of like-minded digital nomads in these worldly cities:
Digital nomads are more common than you might think. These people have capitalized on the power of technology in order to escape the 9 to 5 lifestyle. They are now working location independent jobs that allow them to work, live, and play where they want to. The world is their office.
As long as these self-motivated workers get their work done, they can go anywhere and do anything. This is the future of the working world. Become a digital nomad today. It's time to take back your time and to live the life that you want to live.