Did you know that the Federal Aviation Administration is actively accepting applications for new air traffic controllers? There is currently a shortage of air traffic controllers and the FAA is planning to hire and train a new generation of air traffic controllers to fill the niche.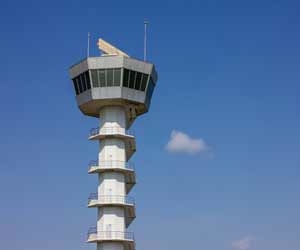 This is a huge opportunity for you. Currently there are 14,000 FAA air traffic controllers working in the USA. The average median salary for air traffic controllers is $122,950 plus an impressive benefits package. Now that's what we consider to be a high paying job! Plus there are job opportunities at nearly every airport across the country.
Air traffic controllers have a very important job. It is their responsibility and duty to guide pilots, planes, and passengers through their flight experience. They carefully monitor and coordinate flight patterns of all aircraft at all times. This includes the taxi, takeoff, flight, and landing of tens of thousands of flights every single day! As you can imagine, safety is the utmost priority at all times.
Become An Air Traffic Controller
If you think that you'd like to become an air traffic controller, you need to apply ASAP. The last round of air traffic controller hiring had 20,000 applications for just 1,000 positions (CNN.com). The FAA expects to receive 25,000 applications during the one week that this job opportunity is posted.
The lucky ones who are selected will attend a 13-month training program at the FAA Academy in Oklahoma City. To apply for an air traffic controller job with the FAA you must meet the minimum requirements as written on FAA.gov:
Be a United States citizen
Be under the age of 31 on August 15, 2016*
Pass a medical examination
Pass a security investigation
Pass the FAA air traffic pre-employment tests*
Speak English clearly enough to be understood over communications equipment
Have three years of progressively responsible work experience, or a Bachelor's degree, or a combination of post-
secondary education and work experience that totals three years
Be willing to relocate to an FAA facility based on agency staffing needs
Is your resume, cover letter, and application ready to go so that you can land one of these air traffic controller jobs? This could be the big break you've been waiting for!
See Also: