Lights. Camera. Action! What do movies, television shows, musicals, theater shows, and advertisements all have in common? They all require extras. Extras are background actors who do not have speaking roles. These silent individuals come from all walks of life and earn decent money to appear on camera. Sounds like a cool job opportunity, right?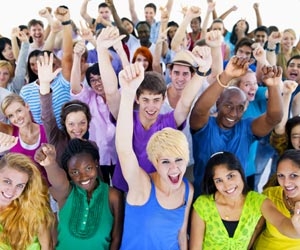 Try to watch a TV show or full length movie and count how many extras you see throughout the production. The number will amaze you. Extras are in demand and if you fit the role, this could be your big break. Being an extra is an excellent way to build your resume. Plus, you'll earn anywhere from minimum wage to $150 per day as an extra depending on union status and project budget.
The film and TV industry needs all sorts of people to be extras. Almost every production requires extras who will help bring the scene to life. As an extra you may be a part of an unruly mob, walk a dog down the street, fight aliens in an epic battle scene, drink coffee at a outdoor cafe, or do just about anything else. Extras are an essential part of the filming process, which means there is a constant demand for people like you.
The beauty of this short-term job is that anyone can become a movie or TV extra. To find out if you make the cut, you'll need to attend a casting call. If you are selected, you'll need to get ready for anything. Eventually, you'll be given a costume and told directions on how to play your small non-speaking part on camera. And don't worry – usually no acting experience is required!
Learn More About The Film And Music Industry
Becoming a Film and TV extra is a fun job. If you're looking to earn a few bucks, see yourself on the big screen, or break into the film and television industry, then landing gigs as an extra is a great thing to do.
While we were researching this article we found a YouTube video about the World's Greatest Extra. If you're keen to become an extra, watch this video!
We hope to see you on TV soon!
See Also: