Dreaming about working abroad? Before you book a flight and apply for a job you need to obtain a work visa that allows you to legally work in that country. Hopefully this quick guide to work visas will point your international job search in the right direction.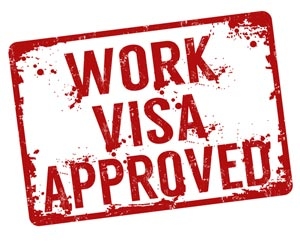 Work visas are a relatively complex topic and it would be impossible to explain everything you need to know about work visas in a single post. Our goal is to give you some universal guidelines that pertain to work visas for any of the world's 195 countries.
Learn More About Working Abroad
Whether you want to teach English, plant trees, or work in the ski industry, you need a work visa. The work visa is essentially your golden ticket for employment in another country. Without a properly authorized work visa you cannot legally work in a foreign country. If you want to work abroad, researching work visas needs to be at the very top of your things to do list.
Regardless of what country you want to work in, start with this quick guide to work visas:
Every Country Has Their Own Eligibility Requirements – The Internet is a fantastic resource for work visa research. Use Google to find and consult official government websites that detail what is required to obtain a work visa in their country. Typically, you can either obtain a work visa based on your skill set and experience or you will need an employer to sponsor you.
Not Every Company Can Sponsor Work Visas – Sponsoring a foreign worker is an expensive and complex process. Not every company will be able to help you find a job. If you are highly skilled and have experience, you are more likely to find a sponsored visa.
Determine What Type Of Work Visa You Need – Each country offers different types of work visas that stipulate how long you can stay, what types of jobs you can perform, what employers you can work for, and other requirements. It's your responsibility to determine what type of work visa you will need.
Work Visas Are Temporary – The majority of work visas only allow you to stay in a foreign country for a pre-determined amount of time. It's unacceptable to overstay your visa.
Follow The Directions – Since work visas are controlled by the government, there are always lots of hoops to jump through. Get ready for lots of paperwork. You'll have to apply and provide supporting documents. Often you have to go to an interview at a consulate or embassy. Everything must be rubber stamped and thoroughly scrutinized before it will be approved.
Don't Forget About Working Holiday Visas – Working Holiday visas are designed for young people to obtain temporary work while traveling. To qualify for a working holiday visa you must meet certain age and financial requirements. These are often the easiest visas to obtain as long as you meet the eligibility requirements.
We highly encourage everyone to work abroad, but before you can do this you need to research the realistic possibilities. If you want to work in a foreign country, you must go through the proper channels to obtain a work visa.
Work visas are tricky things. JobMonkey.com is an excellent starting point for your research into work visas. If you need additional help, consult with an immigration specialist or attorney in your country of choice. Best of luck!
See Also: