Where do you see yourself in 5 years? 10 years? Longer? This tough question is often asked during job interviews and it's one that every job seeker needs to give some thought and be able to confidently answer. If you haven't thought about your long term career goals, now is as good a time as any.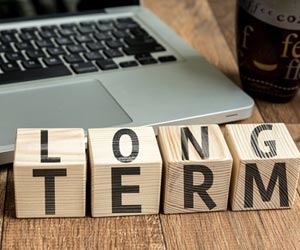 Any serious job candidate should have a plan for the short term and the long term. Plans and goals are essential drivers for career growth. No company wants to hire someone who lacks ambition or isn't passionate about their career path. These are big red flags for any hiring manager.
How To Beat The Never Ending Job Search
Long term career goals are a healthy way to set yourself up for future success. Did you know that long term career goals can be flexible? You may find that in two years you hate the traditional 9 to 5 job and opt for the #vanlife where you chase cool jobs or work as a travel blogger. When this happens you'll have different long term career goals. And that's ok.
Regardless of your specific path in life, you need to plan for the future. Define the stepping stones that you need to follow in order to be the best (fill in the blank) that you can be. Your long term career goals may include things like:
Furthering your education
Growing your company
Expanding your franchise opportunities
Increasing your private clientele
Climbing the corporate ladder
Landing a specific job
Or anything else that's important to you
Be specific and descriptive when thinking about your goals. This shows that you've given your long term career goals some thought. To increase your chances of getting hired, make your long term career goals align with your current job search. Plan out a way to work this info into your elevator pitch. By defining your career path now, it goes a long ways toward showing hiring managers that you're a dedicated and true professional and not some mediocre job seeker who will get lost amongst the masses.
Why Setting SMART Goals Will Make You Successful
Long term goals help you stand out from the crowd and will boost your chances of being successful. Write your short term and your long term career goals down. Post your goals where that you can see them every day so that they inspire you to do great things.
If you find that your plans change, no big deal. At that point, reassess and make new goals that will help you achieve the things that you want in life. It's important to always have goals. Take the time to plan out a handful of long term career goals that are ideal for you.