Do you want to become a travel blogger? As a travel blogger you'll get paid to travel and share your adventures with your digital audience. Blogging for a living is no easy task, but when you treat blogging like a job you'll get to run you own business, set your own hours, and have the adventure of a lifetime.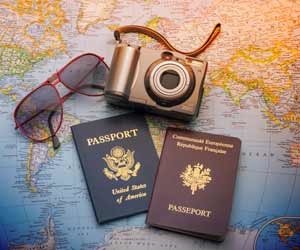 Anyone can start a blog. In fact, everyone should blog – it's a great way to build your personal brand. There are essentially zero barriers to entry in to this niche. Unfortunately, not everyone can run a successful and profitable travel blog. Why? Because it's hard work. While travel blogging may sound glamorous, it's actually a tough niche to make a living – unless you are dedicated, passionate, and entrepreneurial.
Thousands of people around the world call themselves travel bloggers, yet only a handful actually earn money with their blogs. Some make their entire living by blogging and the most successful travel bloggers pull in six figure annual incomes. The ones that are successful do one thing differently, they treat travel blogging like a job. What type of travel blogger will you be?
Below you'll discover the basic steps on how to become a travel blogger:
Seek Inspiration – Explore the world of travel blogging. See what people are doing, why they do it, and how they do it. Use this to help you formulate a business plan.
Define Your Niche – Pick a travel niche that you're going to pursue. Are you going to be a backpacker? Beach hopper? Mountain lover? Adventure seeker?
Pick A Domain Name – Choosing a name is tough. It needs to be short, sweet, memorable, and available. Use a hosting service to help you discover what domains are available for purchase.
Get Online – Once you own a domain, you'll need to get online. Find a website host that allows you to bring your domain to life.
Create Captivating & Useful Content – It's time to start writing and producing content for your blog. Share your adventures, ideas, and travel tips. Do interesting things! Make your content shareable and intriguing so that people want to come back for more. Maybe you'll write about How To Earn Free Frequent Flyer Miles, The 7 Best Beaches That No One Knows About, or Where To Find The Best Croissants In Lyon, France. Their is unlimited content out there. It's your job to create it.
Get Social – Build your fans and followers on Twitter, Facebook, Instagram, and other social channels. Share your content and build a community of people who enjoy what you are doing and why you are doing it.
Drive Traffic – Creating a successful travel blog is all about driving traffic. Through search engines, social, and direct hits you'll be able to drive traffic from around the world to your blog. The more traffic you have, the more money you can potentially make.
Network – Just like in the job search you need to get out and meet people. Interact with your fans, guest post on other blogs, join the Travel Blogger Association.
Monetize Your Travel Blog – Once you have a loyal following, it's time to monetize through advertising, affiliate links, and other channels. Do this step right and you'll be on your way to making money as a blogger.
Build Your Brand – Make yourself a recognizable, trustworthy source of information that people rely on. Build your brand so that people know who you are and what to expect. Market and promote yourself to the world and build your web presence.
Think Long Term – Starting a successful travel blog won't happen overnight. Stay dedicated to your blog for the long term. It may take time to do the above steps, but with the right strategies in place, you'll be able to turn your blog into an income stream that funds your travels and adventures around the world.
Travel blogging pays you to do what you love, but it's not as easy as some people might have you believe. To be successful in this niche, you need to be a professional. You can learn more about each of the above steps through a simple Google search.
Why Travelers Are More Successful In Their Lives And Careers
If you want to become a travel blogger, you have to be passionate and treat your travel blog like a job.  While this job may start as a hobby, it has the potential to quickly become a full time job that literally pays you to do what you love.
Are you ready to become a travel blogger?
FYI – If blogging doesn't sound like your dream job, you may want to read up on how you can travel without quitting your job or discover jobs that pay you to travel.