Parents around the world are in a constant juggling act between work, kids, and life. There's no doubt about it, having kids is hard work. When parents need a little help, it's time to call in a child-loving childcare specialist. For job seekers who love kids, this could be a money making opportunity for you.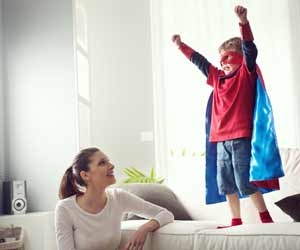 If you love children, should you become a nanny or  should  you become an au pair? It's a common question that aspiring childcare specialists wonder about and we're going to try to shine the light on the differences between these two jobs.
Learn More About Nanny and Au Pair Jobs
Regardless of the job title, the basic job is the same: you are paid to take care of the children in the family that you work for. This may include cooking, cleaning, housekeeping, childcare, running errands, or other daily tasks. Both are fun jobs, but there are certainly some distinct differences between nannies and au pairs.
What's the best childcare job for you? Let's look at the main differences between a Nanny vs. Au Pair:
Nanny
Professional, certified, trained childcare specialist
Plan to make childcare a career
Can be a live-in or live-out provider
Typically work locally
Allows for a good work-life balance
A long term position that can last for years
May be viewed as an "employee" of the family
Earn a salary that may include room and board
Au Pair
Entry-level, untrained positions
Ages 18-26
Designed for travel to a foreign country on a cultural exchange
In the US, this is a sponsored position that must be approved by the government
Au pairs come from all over the world
Ideal for a season or gap year because it is a short term position
Treated as part of the family
Earn pocket money and room and board
Work up to 45 hours per week
As you can see, there are certainly a few fundamental differences between a nanny and an au pair. Which one is right for you? It comes down to whether you're looking for a short-term, cool job that offers a global experience or if you're looking for a professional career path that allows you to make a living over the long term.
Do You Really Need A College Degree To Get A Job?
There are plenty of opportunities for both au pairs and nannies. Do your research and you'll find plenty of job listings. Now that you know the differences between nanny vs. au pair, you'll be able to apply for the right position for you. Need help getting started? Check out these popular childcare employers:
Please stop by JobMonkey.com to learn more about nanny and au pair jobs. You can also search and apply for childcare/nanny/au pair jobs on the JobMonkey JobCenter. Your next job might only be a click away!