Life is all about balance. If you play too much, you won't be able to make any money. If you work too much, you won't be able to play at all. It's incredibly important to find a balance that suits your lifestyle.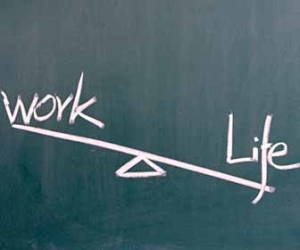 Work life balance is a popular term in the working world. It is the act of prioritizing your work and life. It's all too common in our society for people to work too much. Instead, people need to allow time to do the things they want to do. It makes people happier, reduces stress, and limits burnout – who can argue with that?
21 Cool Jobs That Don't Feel Like Work
Work life balance is an important factor to consider in the job search. In fact finding a job with an appropriate work life balance should be high on your priority list as a job seeker or career switcher.
That's why we want to highlight a super cool post from Glassdoor.com titled 25 Best Jobs For Work-Life Balance 2015. In this study, Glassdoor looked at a variety of jobs and measured their work life balance on a scale of 1 to 5 where 1.0 is very dissatisfied and 5.0 is very satisfied. The "list was compiled based entirely on employee feedback shared on Glassdoor over the past year." The results should help you focus your job search on jobs that will support your lifestyle.
Below are the best jobs for work life balance and the job's average salary. The full report from Glassdoor also highlights the job's Work Life Balance rating and the current number of job listings in that niche. Please visit Glassdoor for further information.
Here are the results:
Data Scientist – $114,808
SEO Manager – $45,720
Talent Acquisition Specialist – $63,504
Social Media Manager – $40,000
Substitute Teacher – $24,380
Recruiting Coordinator – $44,700
UX Designer – $91,440
Digital Marketing Manager – $70,052
Marketing Assistant – $32,512
Web Developer – $66,040
Risk Analyst – $69,088
Civil Engineer – $65,532
Client Manager – $71,120
Instructional Designer – $66,040
Marketing Analyst – $60,000
Software QA Engineer – $91,440
Web Designer – $53,848
Research Technician – $36,525
Program Analyst – $71,120
Data Analyst – $58,928
Content Manager – $60,960
Solutions Engineer – $92,456
Lab Assistant – $27,550
Software Developer – $80,000
Front End Developer – $75,000
Glassdoor does this study regularly. It's interesting to note that overall work life balance numbers have dropped in recent years. The average in 2015 was 3.2, while the average in 2009 was 3.5. Does this mean we are all working harder? And not playing enough? It's up to you to figure out what's important to you. Choose the right job for you and you'll be way happier.
It's important to enjoy life. Use this list of cool jobs to help you fine tune your job search. Learn more about these jobs in the JobMonkey Job Guides or start your job search on the JobMonkey JobCenter today.