Millions of people go to work each day where they get paid well to sit and stare at a computer. But desk jobs aren't for everyone.
When you're hunting for a job, do you look for a career that confines you to a desk or one that is desk free? If you want to be happier, healthier, and still make good money then find a non desk job. You'll be happy with your choice.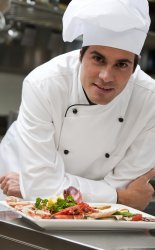 In a recent press release from CareerBuilder, they look at high paying, non-desk jobs that don't require a four year degree. They define a non-desk job as a job where you are not bound to a desk for the majority of the work day. Does that sound like what you're looking for? We thought so!
CareerBuilder found 170 cool non-desk jobs that pay over $15 per hour that require an associate degree or less. With 90% of all non-desks jobs coming from the health care industry, they whittled the list down to bring you the top paying jobs in six different categories – health care, construction and extraction, installation and maintenance, architecture and engineering, green energy, and miscellaneous.
We've taken their list of the top jobs by category and highlighted the jobs in order of pay per hour. Which one will you choose?
Elevator Installers and Repairers – $37.81
Dental Hygienists – $34.19
Diagnostic Medical Sonographers – $31.93
Electrical Power Line Installers and Repairers – $30.85
Boilermakers – $27.74
Avionics Technicians – $26.92
Signal Track Switch Repairers – $26.75
Occupational Therapy Assistants – $26.57
Mechanical Engineering Technicians – $25.19
Industrial Engineering Technicians – $25.01
Rotary Drill Operators, Oil and Gas – $24.79
Electro-Mechanical Technicians – $24.68
Wind Turbine Service Technicians – $23.79
Solar Photovoltaic Installers – $19.04
Locksmiths – $18.25
Massage Therapists – $17.27
Travel Guides – $16.26
Head over to PRNewswire to see the jobs broken down by category and to discover each job's growth rate between 2010 and 2014. It's impressive.
The workforce is changing and non desk jobs are becoming more popular. It might surprise you that non-desk jobs maintain a regular and healthy growth rate each year. This means there are constantly new job opportunities for people looking to escape the desk life. Are you ready to make the switch?
There are plenty of non-desk jobs that pay over $15 per hour and there are even more cool non desk jobs that didn't make CareerBuilder's list. You can discover even more super cool non desk jobs on JobMonkey.
Don't head to a desk if you don't have to. Escape the office. It'll be the best thing you ever do!