Social media plays a powerful role in our society and in our world. Facebook, Instagram, Snapchat, Twitter, LinkedIn, Google+, Pinterest, YouTube, WhatsApp, Vine, and countless other social media channels are changing the way the world works. With this growing demand for social media, companies are actively hiring socially savvy professionals called social media specialists.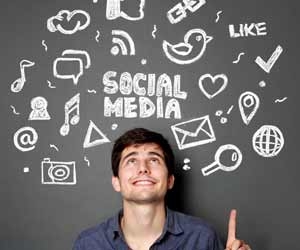 In the grand scheme of things, jobs in social media are relatively new. There are many different job titles in this niche and they all seem to have some sort of overlap. Community managers, consultants, analysts, marketers, experts, and specialists all work in this niche and maybe you can to. The key to finding the right social media job for you is to read the job description so that you know what you're applying for.
This blog shines the spotlight on the job of social media specialist. Social media specialists don't necessarily work for the big social media companies. Instead they work for companies of all shapes and sizes to help them grow their social presence.
According to FastCompany.com, "nine out of 10 US companies are now active on social networks." These companies are able to tap into an social audience of over 2 billion active social media users located around the world. At no point in history have businesses been able to tap into such a broad target market so easily.
Due to the fact that social media is constantly growing and positively affecting companies around the world, there is a strong demand for social media specialists. Social media specialists work hard to:
Drive traffic to websites
Develop employer brands
Manage web presence
Establish an editorial calendar for posts, videos, and images
Engage and interact with the social media audience
Produce consistent, high quality content
Convert fans to sales
Analyze easily trackable social media performance via numerous statistics
Create and implement a focused and goal oriented marketing plan
Finding a social media specialist job typically requires that you have social media experience. If you are active on social media, you have a good idea of how this niche works already. To gain professional experience you can find smaller jobs with small companies, build your own social media business, or earn a degree in social media.
As you start to search for jobs, learn how to boost your resume with social media skills. Then you can work your way up until you're part of a team of social media specialists that work hard to reach millions of people every single month. There's so much potential in this niche.
Launch Your Career In Social Media Management
If you're a socially savvy person who enjoys social media, pursue a job as a social media specialist. There are jobs with nearly every single company around the world. Social is the future and it's here to stay.
Are you ready to build your career in social media? Search and apply for social media specialist jobs on the JobMonkey JobCenter today.
See Also: Find A Job Using Social Media