Do you have a sweet tooth? Are you a sucker for sugary snacks? What's your favorite sweetie? Chocolate? Ice cream? Gummy candy? Bubble gum? Cookies? Lollipops? Jelly beans? Marshmallows? Hard candies? Licorice? Toffee? Cake? If your mouth is watering, you might be a prime candidate to find one of the world's sweetest jobs where you make your living working with candy and sweets.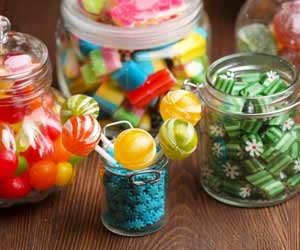 Sweets are enjoyed by people of all cultures, backgrounds, and ages. They are universally appealing. The sweets industry is big business. Countless people work in the multi-billion dollar sweets industry creating, making, selling, marketing, and capitalizing on the sweets that people from around the world love and enjoy. Sweets sell and that means there are jobs to be had.
Are you ready to find one of the sweetest jobs in the world? We think these sweet jobs will be appealing to you:
You can find these sweet jobs with large, global, brand-name companies or with small, local, boutique businesses. To get your start in the sweets industry, decide what you want to specialize in. Next, gain the training and experience you need to excel and build your sweet reputation. The sweetest jobs in the world are in demand. If you have a sweet tooth, this will be the perfect career move for you.
Try to find a job where you'll love what you do every day. Learn more about sweet jobs on JobMonkey.com today. When you're ready, start your search for the sweetest jobs in the world on the JobMonkey JobCenter.
See Also: 17 Top Jobs For Foodies