What are you doing this summer? One cool summer job market is theme parks and amusement parks. Thousands of people just like you find work in the theme park industry for either a season or a lifetime. Get your foot in door of the world of theme parks and you mind find the perfect career path for you. Have you considered finding a job with theme park employers?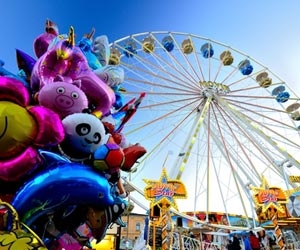 Learn More About Theme Park Jobs
Everyone loves a good theme park. What's not to like about roller coasters, water parks, shows, parades, restaurants, animals, games, shops, and so much more? With hundreds of amusement and theme parks in the US and abroad there are plenty of cool job opportunities in this fun niche if you know where to look. This post shines the spotlight on 14 theme park employers hiring this month.
When you land a job at a theme park you're going to have a blast. You might even find a job like one of these cool opportunities:
Ambassador of Fun
Ropes Course Attendant
Costume Technician
Bus Driver
Financial Analyst
Culinary Chef
Director of Entertainment
Actors
Gardeners
Ride Maintenance Technician
Bartender
Internships
Confectionery Attendant
Sound Technician
Lead Park Ranger
Acrobat Performer
Security Manager
Howl-O-Scream Entertainer
All of the jobs listed above are real job listings that were posted on the JobMonkey JobCenter this month. Almost all of these jobs provide an exciting and fun work environment where you get to do cool things. Be honest, how many of these jobs sound like they'd be a blast? Why don't you visit JobMonkeyJobs.com to see what job openings you want to apply for?
Streamline your job search by heading directly to the Theme Park Job Board or check out specific job listings for the theme park employers featured below:
We highly encourage you to find a theme park job this summer. Are you ready to start your job search?
See Also: