Amusement Park Jobs or Theme Park?
Yes, there is a distinction between a theme park and an amusement park, and the differences will affect your work experience.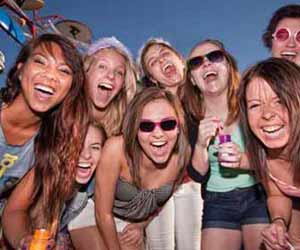 Amusement park jobs, at such places as Castles N' Coasters© and Cedar Point©, focus solely on promoting their rides. Merchandise, food and beverage, and entertainment are secondary concerns because these parks focus the majority of their money and advertising on the thrill attractions. Thus, the clientele of the amusement park are usually teenagers and college students seeking excitement and thrills without the fluff of a theme park. Guest service is not a focus as these guests rarely want the level of interaction theme park guests need. Amusement parks also tend to be smaller than theme parks, and thus offer fewer positions. Additionally, amusement park staff are mostly seasonal hires from nearby schools. Advancement is rare as most entry-level positions are designed to be temporary.
Theme parks, on the other hand, are designed for career advancement. They have the money, employee numbers, and urgency to educate and promote from within. Theme park excursions cost more than a day-visit to an amusement park, and thus attract a wealthier clientele as well as international visitors, families, tour groups, and many repeat travelers. Along with the attractions, theme parks offer world-famous dining experiences, popular shows, on-site hotels, and multiple parks to visit. For example, a typical Disney vacation involves visits to the Magic Kingdom©, Epcot©, the Disney MGM Studios©, and Disney's Animal Kingdom©. Employees in theme parks are expected to be knowledgeable about all parks and resorts on property, all attractions offered, multiple merchandise locations, and dining options, even if your role does not specifically deal with those areas.
The reason the word "theme" is applied to these parks is that each destination's purpose is to whisk their guests into a completely unique experience; to make them forget about reality and become fully immersed in the world they have built. Universal Studios©, for example, invites guests to play in a thriving movie studio. Busch Gardens Orlando© takes guests on an African safari. Along with the rides, shows, and park architecture, it is the responsibility of the employees in those parks to "act the role," as if you are a stage performer. For example, when working in a Wild West setting in a theme park, you would be expected to greet guests with a "Howdy!" or "Welcome, partner!"
When asked about the design of the Magic Kingdom©, Walt Disney said that he insisted on building separate transportation to and from the park so that guests wouldn't be able to see traffic on the roads or worry about getting back to their cars early. His goal was to completely immerse guests in a whole new world with no trace of the outside marring the experience. Over time, other parks picked up on this idea, which is where the differentiation between amusement and theme parks occurred.
As a theme park employee, you will be charged with preserving this new "world." Hopefully, this gives you some insight and help in determining whether an amusement park job or theme park job is best.