Last year 53.6 million people went skiing in the US. These skiers and snowboarders came from all over the world to enjoy the exciting mountain experience of sliding downhill. With nearly 500 different resorts in the US, there are plenty of ski resort destinations to choose from. They all offer a unique twist to the skiing experience. And every single resort, both big and small, needs hard workers to head to the mountains for the winter to work and ski.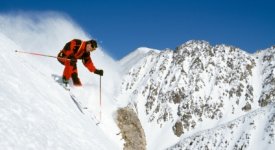 One of the best things about working in the ski industry is that everyone shares a passion for the mountains and the outdoor lifestyle. If you're a fan of skiing and snowboarding, what could be better than finding an entire town of people who like to do the same thing? That's the "ski bum" lifestyle for you!
Get Tips On How To Find Ski Industry Jobs
There are many types of ski resort jobs including retail, guest services, hotels, mountain operations, ski instructing, lift operations, ski patrolling, terrain parks, rentals, transportation, and even ski tuning. Every ski resort needs workers and they are scurrying to hire their staff for the quickly approaching winter season.
Ideally these resorts want to have their staff finalized before the snow starts falling. That means you need to apply for ski resort jobs right now. We've notice a LOT of ski related job listings hitting the job board lately. These ski resorts want to hire you:
It's important to give you fair warning that ski resort jobs can be addicting. You may go for a season and stay for a lifetime. So be sure to clear your schedule. Find all of the latest ski resort jobs on the JobMonkey JobCenter today. We look forward to seeing you in the mountains this winter!